Hashbrowns are probably one of the easiest side dishes to make, but since the prepackaged kind always go on sale, I rarely make them from scratch. Recently, however, organic potatoes have been on sale, so I have tried my hand at making my own.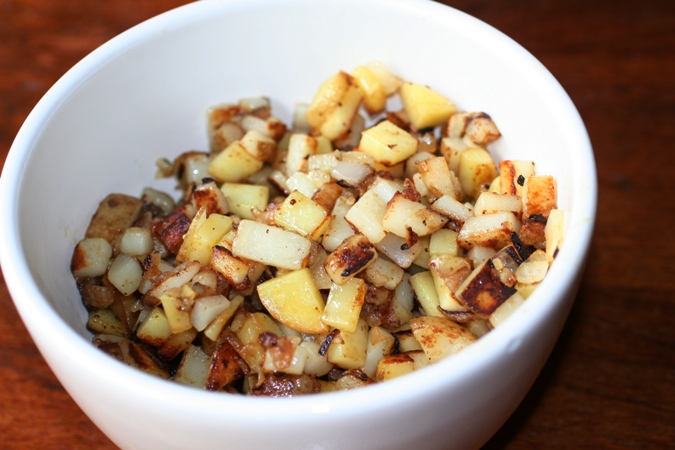 When potatoes go on sale, my favorite things to make are Steak Fries, Cream Cheese Mashed Potatoes, and even Hashbrown Quiche. I think making these dishes from scratch taste so much better, especially when in my seasoned cast iron skillet!
*Scroll down to use print recipe feature and add to your Recipe Box.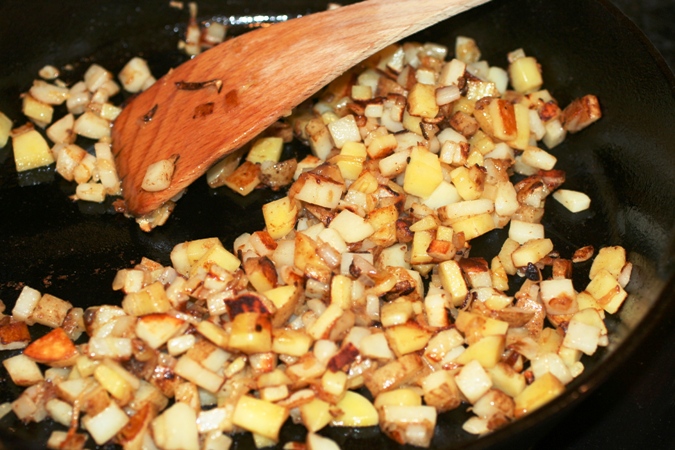 My favorite ways to serve these? How about alongside a breakfast or brunch, preferably my favorite Breakfast Burrito with Spinach and Bacon. They're also great with an easy quiche (or as my children say, "egg pie"). And of course, they are very comfortably paired with plain ole eggs and bacon.
TOPPINGS
If you have been to the famous IHOP you know there are so many ways you can serve these, but I prefer with a little Seasoning Salt and Frank's Hot Sauce. Enjoy!
Hashbrowns
Ingredients
3-4 medium potatoes, diced
½ medium onion, diced
2-3 tablespoons olive or canola oil
1 teaspoon seasoning salt
fresh ground pepper, to taste
Instructions
Heat a cast iron skillet or non-stick pan on medium high heat. Generously coat the bottom with your favorite oil, let heat a few seconds, then drop in the potatoes.
Cook potatoes 5-8 minutes or until they begin to soften and get golden brown.
Move all the potatoes to one side of the skillet, and add onions to one side of the pan. (You may need a little more oil at this point.)
Saute onions in one half of the pan until soft and start to caramelize.
Combine potatoes and onions, then sprinkle to taste with seasoning salt.
Top with your favorite toppings like hot sauce, ketchup, cheese, jalapenos, and more!
What are some of your favorite ways to serve hashbrowns? I would love to hear your ideas.
Recipe developed by Kelly Hancock ©2010 Faithful Provisions. For personal use only. May not be reproduced, reprinted or distributed for capital gain without prior permission from Kelly Hancock.