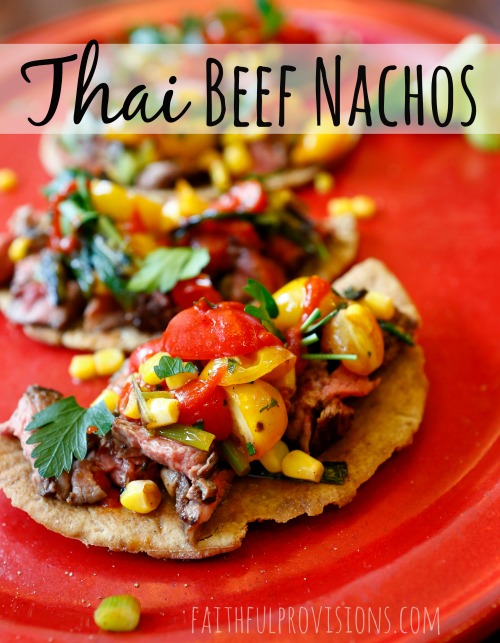 Last October I got the opportunity to live out a dream of mine and work in a real-live test kitchen! I was invited to go to Chicago with the The National Cattleman's Beef Association to learn more ways to prepare beef. The team I was working with was given a cooking challenge: One hour to create a masterpiece in an amazing kitchen with a fully-stocked arsenal of ingredients.  I felt like I was on the TV Show "Food Network Star".  It was so much fun!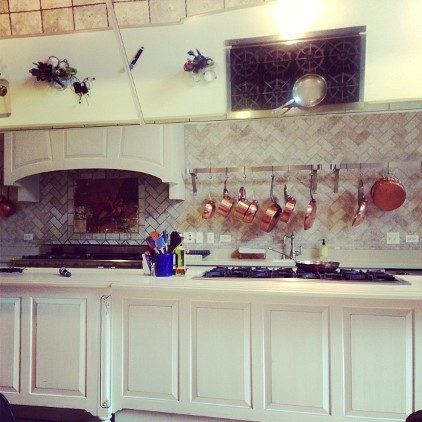 This is the definition of "Dream Kitchen". Seriously. At least it should be.
When The National Cattleman's Beef Association invited me to come to Chicago and learn more about ways to prepare beef, I was so excited.  I felt very honored to be able to attend with all some incredibly talented food bloggers. We had so much fun talking about blogging, food and –more importantly– beef.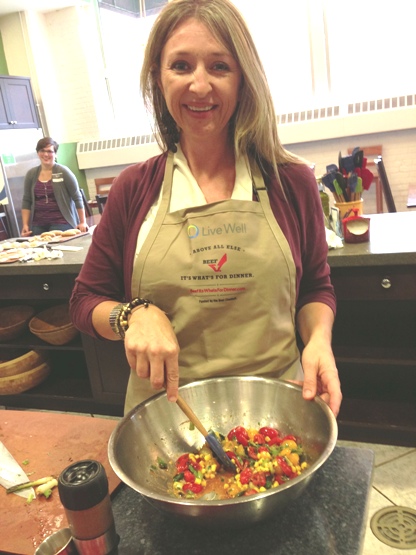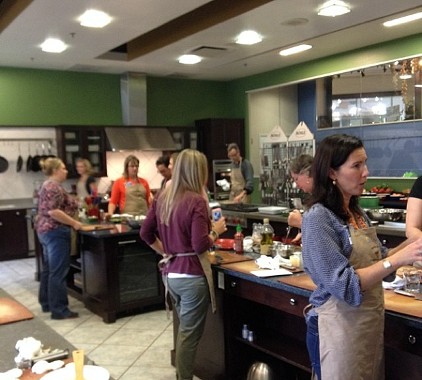 Is this what they mean when they say too many cooks in the kitchen?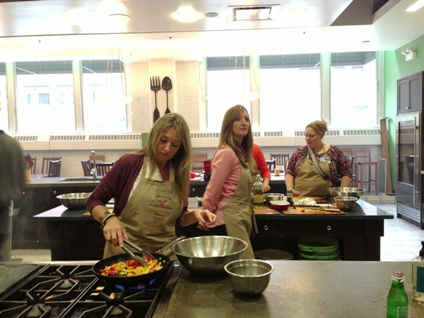 Wouldn't we be great on a cooking show?!
My team was given the challenge of creating a recipe spin-off of a traditional Nachos dish, but use beef. We were allowed 6 ingredients to work with (not including the beef and spices), and we had about an hour to create.  My team and I (below) talked through several ideas and came up with a Thai Beef Nacho dish, an amazing appetizer that is hearty enough to be a main course. It turned out really well, and if I say so myself, it looked beautiful.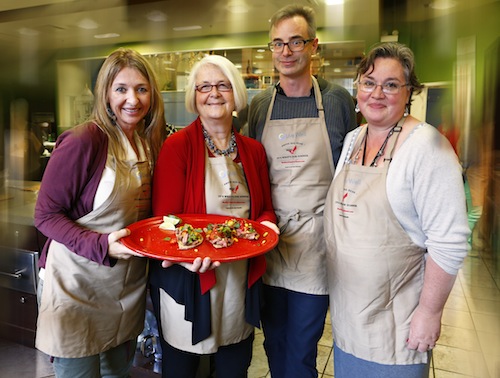 Without any further delay, here is your recipe. I hope you enjoy creating it as much as we did. Remember, it's your dish, so make it your own!
Thai Beef Nachos
Ingredients
4-6 wheat pitas halved, cut into quarters
1-2 tablespoons olive oil
2-3 pounds sirloin or flank type of steak
1 tablespoon cumin
2 teaspoons coriander
1 teaspoon smoky paprika
1 pint cherry tomatoes, halved
1 cup grilled corn
2 limes (1 juiced, 1 quartered)
3-4 green onions, diced, grilled
2 tablespoons fresh cilantro, chopped
Siracha, to taste
Salt & pepper, to taste
Instructions
Preheat oven to 350 degrees.
Lay out pita pieces on a baking sheet and brush with olive oil.
Sprinkle lightly with cumin and sea salt.
Put into oven for 5-6 minutes or until lightly crisped. Set aside to cool.
Pat steak dry and season liberally with cumin, coriander, paprika, and salt.
Put steak, corn, and green onions on the grill, cooking steak about medium rare and vegetables just until warm and light grill marks, follow directions on Beef: It's What's for Dinner site here.
Set aside to cool.
Once meat has sat for 5-10 minutes, slice thinly against grain.
Meanwhile, in a large bowl, toss tomatoes, cilantro, corn (once cut off cobb), diced grilled onions, juice of one lime, 1 tablespoon siracha, and ¼ teaspoon salt. Toss to combine.
Place toasted pita on a large serving platter. Top with one tablespoon grilled meat and one tablespoon salsa mixture. Top with siracha and garnish with cilantro and lime.
Serve immediately.