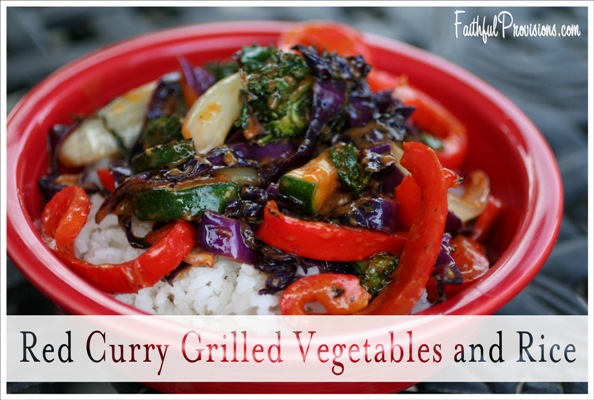 This recipe for Thai Red Curry Grilled Vegetables, served over rice, is another great option for a meal featuring grilled vegetables. It's a very easy meal, especially when you buy the pre-made curry sauce at the grocery store. That's where I get mine, usually at Trader Joe's or at Whole Foods. I recommend that you go with red curry sauce for this meal.
*Scroll down to use print recipe feature and add to your Recipe Box.
This recipe is easily adapted to your own favorite vegetables for grilling, so feel free to mix it up according to your personal taste. What you see listed in the recipe are my personal favorites taken from what I had on hand and what was in season. You could always add in bok choy and mushrooms too.
Rice is the perfect accompaniment to this meal. To keep it easy, just follow the directions on your favorite brand of rice. We like whole grain. This makes a great meatless meal. If you want to make it a little more filling, try adding grilled chicken.
Thai Red Curry with Grilled Vegetables over Rice
Ingredients
¼ head of red cabbage, sliced
1 onion, sliced
1 head broccoli, chopped
1 red pepper, cut into strips
1 zucchini, chopped
4-5 leaves of Kale, chard, or bok choy
Instructions
Toss ingredients in olive oil, add salt and pepper to taste, and grill. (I use this grilling pan—makes it so much easier!)
Assemble grilled vegetables over hot rice.
Top with curry sauce. (I serve the curry sauce at room temperature.)
Here are more grilled vegetables recipes that you might like: