I think that as we're filling those Christmas boxes, we need to take some time to think about how a shoebox can be a ministry. Operation Christmas Child has given a very deep and profound significance to the boxes we have cluttering our closets and under the bed–boxes we often carelessly throw away. It's ironic, don't you think? Something as small and insignificant as a shoebox can contain a miracle from someone else's perspective. It's a perspective you may not be prepared for.
During my time in Ecuador, the people were celebrating Carnival. We constantly had to watch out for flying water balloons and silly string! One day, as we were getting off the bus on the second distribution for Pastor Pablo, we were greeted by all the locals. Thankfully, they spared us the water balloons, but I have to tell you, while on the bus, we had all made sure to arm ourselves with our waterproof jackets, so just in case, we were prepared! What we weren't prepared for that day, what we weren't even looking for, was a miracle. And that's just when God showed us one.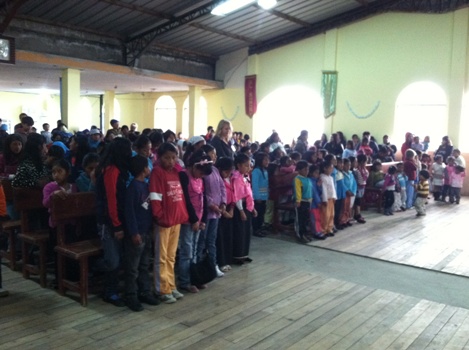 :: You can see more of my Operation Christmas Child pictures from Ecuador HERE in my personal slideshow.
There were a huge number of kids at this site, as you can see. We were told there would be 250 children, our team prepared for more, just in case, but we soon found out there were close to 400 children!  My heart (as well as the others) sank at the thought of any of the children having to leave without a gift.
You can't imagine how beautiful their smiles are—you don't want to do anything that would bring anything less than a smile to those sweet faces. See what I mean?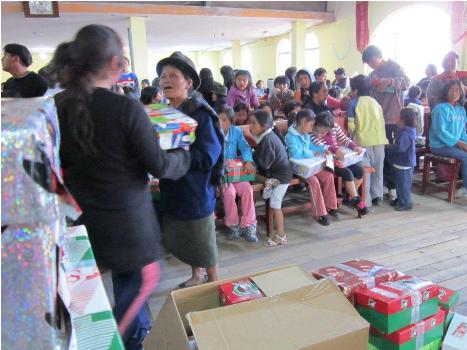 We began the distribution, which was taking longer than planned because of all the children. Things were not going as originally had planned. Little did we know God had planned for this. As we handed out boxes, the children who were waiting their turns had sad faces. The mothers looked at us with a longing that made my heart hurt. I began to wonder how many of them would have to leave empty-handed. Our OCC team came up with a Plan B and even a Plan C, but as we neared the end of the distribution, guess what? God showed us just how amazing He truly is.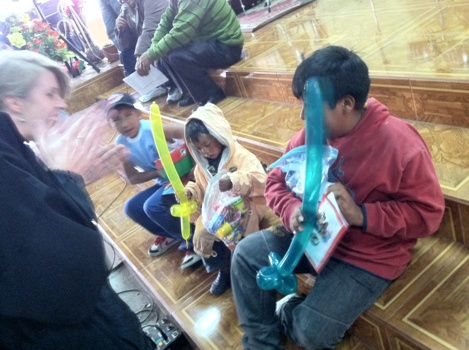 We had just enough boxes for every child. We had two children left—two boys—that didn't get an actual box, but we had just enough booklets, candy, balloons, stickers, and more that we were able to pour into plastic bags for them. These two boys sat on the steps watching, and I could just see their expressions filled with anticipation and worry. Their little faces asked, "Are we going to get a box?"  But, as Rachael brought them their bags, the joy on their faces was without words. They grabbed their bags, and ran to their parents, as proud and happy as could be.
It was truly a miracle that God unveiled right before our eyes that day. I really thought children were going to have to leave that site with no gift. But all the while, God knew that He alone would multiply our boxes and we would have JUST ENOUGH for those children. No more, no less. It amazed me how lovingly God meets us where we are. How he covers every single detail of our lives.  It reminded me of the story of the fish and loaves when Jesus had His disciples feed the five thousand. It truly was a modern day miracle.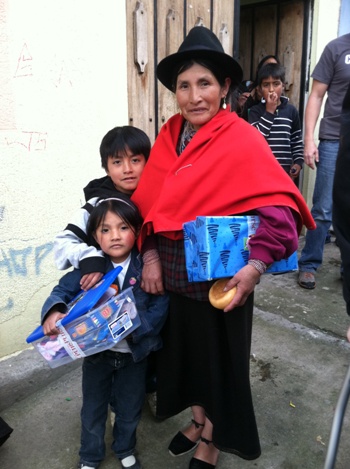 Do you know what I am learning? I am learning that God doesn't necessarily use miracles to bring people to him.  In my experience, God reveals miracles to encourage those he loves. He uses them strategically to let us see just a glimpse of His Glory. To show us what we have to look forward to.
:: Find out the dates for this year's National Collection Week for the shoeboxes HERE.
What do you think is the purpose of God's revealing miracles? Do you think miracles were meant to turn non-believers to Him? Or do you think miracles are meant to encourage believers? I'd love to hear your thoughts.
Be sure to check out all the posts about my mission trip to Ecuador with Operation Christmas Child.

How God Answered My Prayer For…
Last Words Before Leaving for Ecuador
My Mission Trip to Ecuador with Operation Christmas Child – Day One
My Mission Trip to Ecuador with Operation Christmas Child – Day Two
What Operation Christmas Child Means to the Kids' Moms *VIDEO
The Trip Home
My Ecuador Slideshow
The Gift of Fellowship
Learn more about the ministry of Operation Christmas Child HERE.