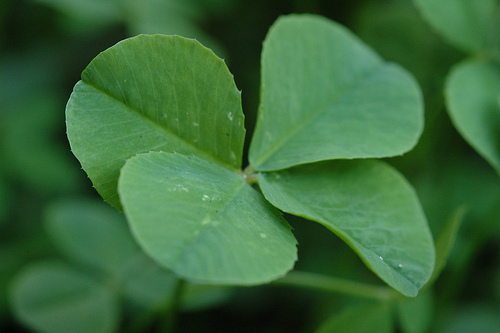 Can you believe I won! What luck!
Boy, I just lucked out with that great deal!
I sure am lucky that I didn't get the flu this year!
Have you ever heard yourself saying something like that? As a Christian, I don't believe anything happens by luck or by chance. In fact, I know it doesn't.
And we know that God causes everything to work together for the good of those who love God and are called according to his purpose for them. (Romans 8:28)
Up until a few years ago, I flippantly threw around the word "luck."
"Oh, it's just my luck!" I would moan.
Or on the other side, "I'm so lucky!" I would say with excitement.
We may throw the dice, but the LORD determines how they fall. (Proverbs 16:33)
And it didn't even dawn on me until I heard a particular sermon one Sunday. That's when I realized that I really view "luck" along the same lines as "chance," something that is based on coincidence. However, I've always said I don't believe in coincidence. I've always said that I believe in Divine Intervention: a Creator who choreographs our circumstances and cares about my life. If I believe that God has a plan, then I don't believe in any kind of luck, and I don't believe anything happens by chance. So that was when I decided that maybe I needed to change my vocabulary! And I did.
I don't know about you, but I hear the term "luck" most frequently around St Patrick's Day.  Be sure to see the real story of St Patrick's Day history in my post "What is St Patrick's Day".  I think you will find it is quite interesting that the history of St Patrick's Day stemmed from a Christian tradition!
Moses said, "Who is like you among the gods, O LORD—glorious in holiness, awesome in splendor, performing great wonders?" (Exodus 15:11)
If I think I'm lucky, or I think something in my life just coincidentally happened in a certain way, then I'm not giving God any credit for being who He says He is. I'm not acknowledging that He is present in a very real way in my life and in my everyday circumstances. He is just as real in the little things (like running into a friend who has been on my mind or snagging a great deal) and the big things (like walking through a family member's chronic illness or marrying the right guy).
Luck is for people who don't yet realize that God has a great and mighty plan for their lives.
What do you think? Do you believe in luck? Share your thoughts with the Faithful Provisions community.