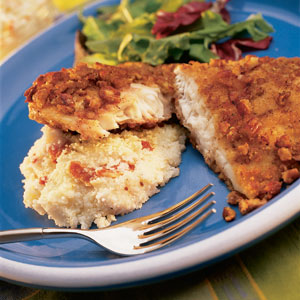 People often ask me how I prepare tilapia, especially when they find out that I'm pretty picky when it comes to fish. I don't like my fish to taste "fishy"–and if you don't like your fish that way either, then you know exactly what I mean. But you can prepare fish and really enjoy its flavor and how it interacts with other ingredients. Fish is such a healthy protein, but it is challenging when it comes to preparation. Hopefully you'll find, like I did, the below recipe for tilapia to be both great-tasting and easy to create.
:: Go here to see the full meal, w/ seasoned grits on the Publix website.
Tilapia Recipe
Ingredients
½ cup pecan pieces
½ cup bread crumbs
¼ cup flour
½ cup reduced-fat milk
1 egg (or ¼ cup egg substitute)
1½ pounds tilapia fillets
1 teaspoon seasoned salt
¼ cup canola oil
Instructions
Chop pecans finely (like coarse bread crumbs); combine with bread crumbs in medium bowl. Place flour in second medium bowl. Blend milk and egg together in third medium bowl. (TIP : I just take leftover whole wheat bread crust in the food processor. I also add hot sauce to the egg mixture for a little more taste!)
Preheat large sauté pan on medium 1-2 minutes. Sprinkle both sides of fish with seasoned salt.
Dip fillets in flour (coating both sides) then dip into egg mixture (allowing excess to drip off). Finally, dip into pecan mixture. Wash hands.
Place oil in pan; swirl to coat. Add fish and cook 2-3 minutes on each side or until golden. Serve.
See all my Recipes for Fish HERE in my recipe box!