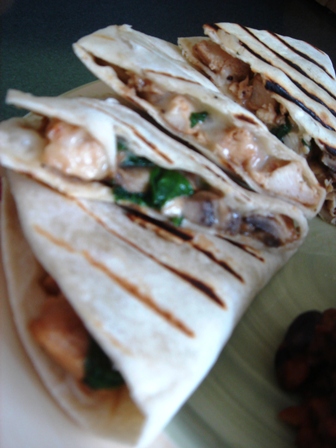 You'll love these Pork and Spinach Quesadillas. I use these as a second meal, made with leftovers from my Orange Juice Slow Cooker Pork. The juicy flavor combines well with the chutney and the spinach to create an amazing taste.
Pork and Spinach Quesadillas
Ingredients
shredded pork (leftover from any slow cooker recipe)
tortillas (whole wheat are great with this)
chutney/preserves (I like a pear or mango with pork)
fresh spinach (I used what was leftover from the spinach salad I served HERE)
cheese (we used Monterey Jack)
Instructions
Heat a large non-stick pan over medium heat.
Spread one half of the tortilla with chutney or preserves.
Add cheese, pork, and fresh spinach.
Fold over, in half.
Place into a pan coated lightly with cooking oil spray.
Cook until warm or until cheese is melted on each side.
Allow to cool before cutting into thirds, and serve.
Find more great Recipes for Pork on Faithful Provisions.
Photo Credit: Annie's Eats
Recipe developed by Kelly Hancock ©2010 Faithful Provisions. For personal use only. May not be reproduced, reprinted or distributed for capital gain without prior permission from Kelly Hancock.