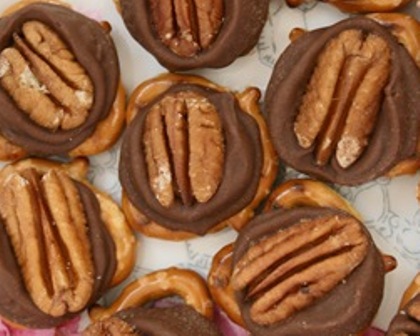 Turtle Cookies are a fun recipe for the kids to make, and they're easy on you because they don't make a big mess in the kitchen. There is no flour to measure or dough to roll out. In fact, there are just three simple ingredients: mini pretzels, chocolate-covered caramel candies (like Rolos), and pecans. Oven time is minimal too.
*Scroll down to use print recipe feature and add to your Recipe Box.
I love taking these Turtle Cookies to a Christmas party, especially a cookie swap. If you don't want to top the cookies with pecans, , substitute red and green M&Ms. That's a very festive look! I keep my eyes open for big bags of the mini pretzels, which I usually can get on sale for $1. Look for the Rolos on sale a dollar store or Walgreens. If I use pecans, I will buy those in bulk at Sam's or Costco.
TIP: Be sure to set an oven timer or alarm of some type when you are using the oven. If you get distracted and forget about the cookies, this easy recipe will become messy and complicated!
Turtle Cookies Recipe
Ingredients
1 bag of miniature pretzels
Several rolls of chocolate-covered caramel candy (I use Rolos.)
Pecans (halved)
Instructions
For easy clean up, begin by lining your cookie sheet with parchment paper.
Pre-heat oven to 250 degrees.
Lay mini pretzels on cookie sheet.
Top each pretzel with a piece of chocolate-covered caramel candy (unwrapped).
Place in oven for 3 minutes. (Set your timer!)
Top cookies by gently pressing pecan halves into softened chocolate.
Allow to cool completely before storing.
More Dessert Recipes:
See all my Dessert Recipes.
Find more recipes for your Holiday Meal Planning on Faithful Provisions.
Photo Credit: Suzanne Duda
Recipe developed by Kelly Hancock ©2010 Faithful Provisions. For personal use only. May not be reproduced, reprinted or distributed for capital gain without prior permission from Kelly Hancock.