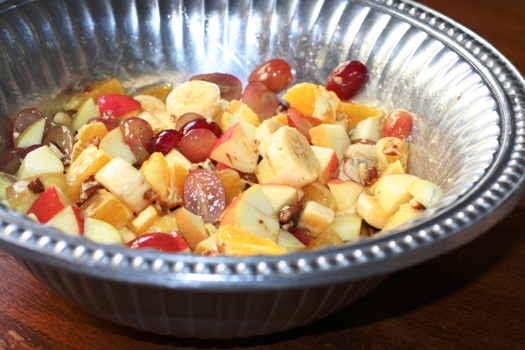 Fruit salad–sounds more nutritious than Hashbrown Casserole and Chicken Cheese Dip, right? With all the rich, heavy foods that we consume at Christmas, I like to have a few offerings that I consider more nutritious. Notice that I didn't say "most" nutritious, LOL. The Orange Marshmallow Glaze still provides a holiday flair.
*Scroll down to use print recipe feature and add to your Recipe Box.
We enjoy this Fruit Salad with our Christmas brunch every year. My mom always made this when I was growing up, so it is tradition for me. These fruits are available year-round, and they taste great with breakfast foods. (I like to use red apples and green grapes for the Christmas colors!) To make it more fun for the kids, add a handful of miniature marshmallows. (Holiday flair, remember?) This is a Hancock family favorite. We love it, and I hope you will too.
TIP: To help prevent premature browning, toss cut apples and bananas separately with a sprinkling of lemon juice before adding to the salad bowl. (If you don't have lemon juice, use Sprite.)
Fruit Salad with Orange Marshmallow Glaze
Ingredients
Fruit Salad
2 apples, diced (unpeeled)
2 navel oranges, diced (peeled)
½ pound of grapes (red and/or green)
1-2 bananas (Slices should be pretty chunky so they don't get mushy. ½- to 1-inch slices)
1 cup pecans, diced
Orange Marshmallow Glaze
¼ can orange juice concentrate or orange juice
½ jar marshmallow fluff (or 1 cup marshmallows)
Instructions
Fruit Salad
Combine chopped fruits and nuts. Save bananas--peel and slice those to add in at the very last.
Orange Marshmallow Glaze
Combine in a small saucepan and heat on low until marshmallow melts.
Let cool to room temperature.
Pour over diced fruit and nut mixture, toss, and serve.
More brunch recipes:
See all my Breakfast and Brunch Recipes.
Find more recipes for your Holiday Meal Planning on Faithful Provisions.
Photo Courtesy: Farm Flavor