You can make this with any kind of green (we just used the Arugula in our garden), but spinach or green leaf lettuce would be great! I just used what I had on hand.
*Scroll down to use print recipe feature and add to your Recipe Box.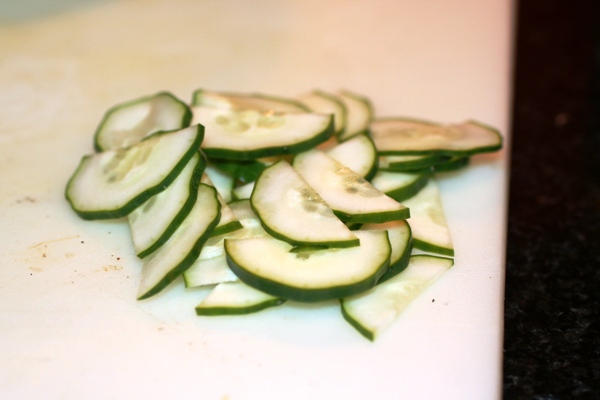 I loved the effect of cutting the cucumbers really thin and letting them sit and soak in the dressing for a few minutes before you toss. This is a great salad for enjoying with all the fresh watermelon that's in season–and it's something different!
Watermelon Arugula Salad
Ingredients
4 cups arugula, spinach or green leaf lettuce
1 cup red seedless watermelon, 1 inch cubes
¼ cup feta cheese, crumbled
½ a cucumber, sliced thinly
1-2 green onions, chopped, white and green parts
Instructions
Make one of the dressings above in the bottom of the salad bowl.
Add cucumber slices and allow to marinade (soak) for 15 minutes.
Add remaining ingredients, toss to coat.
Recipe developed by Kelly Hancock ©2010 Faithful Provisions. For personal use only. May not be reproduced, reprinted or distributed for capital gain without prior permission from Kelly Hancock.