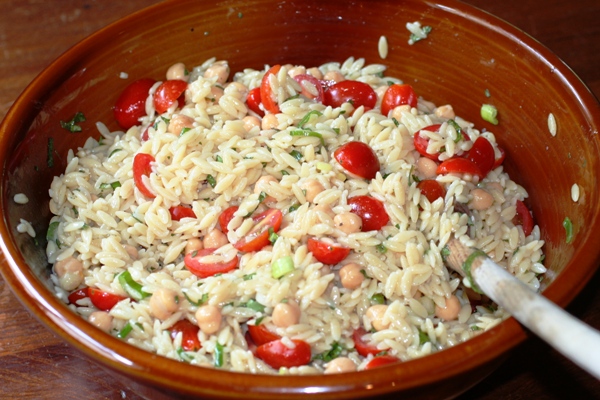 I crave this salad once grape tomatoes and my fresh herbs start coming in.  I think this salad is best kept simple, but feel free to add whatever ingredients you like.
*Scroll down to use print recipe feature and add to your Recipe Box.
The key to making this salad so tasty is the depth of flavor that comes from cooking the orzo in chicken broth. Try not to skip this step!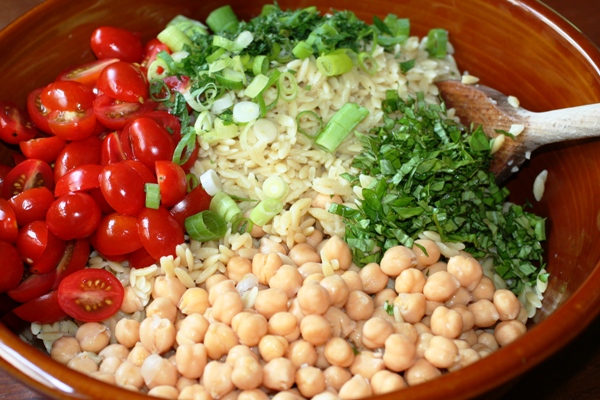 Now, the secret–but necessary– ingredient is the mint. Whenever and wherever I serve this, everyone always asks me what the special taste is. They can't figure out that it is the mint. Now you know! Enjoy!
Summer Orzo Salad
Ingredients
4 cups chicken broth
1 cup water
1-16 ounce box orzo (approx 2.5 to 3 cups)
1 (15-ounce) can garbanzo or cannelloni beans, drained and rinsed
1-10 ounce container red grape tomatoes, halved
3 green onions, chopped
⅓ cup finely chopped fresh basil leaves
¼ cup finely chopped fresh mint leaves
1 cup Red Wine Vinaigrette
Salt and freshly ground black pepper
Instructions
Pour the broth and water into a large saucepan, cover and bring to a boil over high heat.
Stir in the orzo.
Cook until the orzo is tender but still firm to the bite, stirring frequently, about 7 minutes.
Drain the orzo through a strainer.
Transfer the orzo to a large wide bowl and toss until the orzo cools slightly.
Set aside to cool completely.
Toss the orzo with the beans, tomatoes, onion, basil, mint, and enough vinaigrette to coat.
Season the salad, to taste, with salt and pepper, and serve at room temperature.
Recipe developed by Kelly Hancock ©2010 Faithful Provisions. For personal use only. May not be reproduced, reprinted or distributed for capital gain without prior permission from Kelly Hancock.