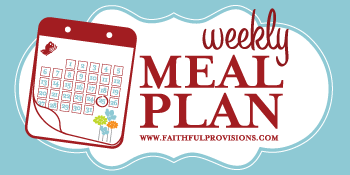 Need ideas for your weekly meal plan? I'm listing some of the things on sale at your grocery stores and then following that with recipes from my Recipe Box that coordinate with those sales. Let me know if you like this and if it helps you out with planning your meals this week.
*If you think it's something your friends could use, please share it on Facebook using the button above!
Click on a Plan Below
My Weekly Meal Plan
This week I am going to base quite a few of my meals around all the vegetable sales at Kroger for squashes and eggplant! If you have never had eggplant, try roasting or grilling it, it is absolutely divine!  So, I will roast a TON of veggies on Monday for the Roasted Vegetable Lasagna, and will end up using the rest of the roasted vegetables in a quiche, Thai Eggplant and Pasta Salad and then finally in a Black Bean and Roasted Vegetable Pizza!
Sunday: Black Bean Enchiladas, salad, chips/salsa and brownies for Community Group
Monday: Roasted Vegetable Lasagna
Tuesday: Roasted Vegetable Quiche with Garlicky Kale (recipe coming this week!)
Wednesday: Thai Eggplant and Pasta Salad
Thursday: Tomato Covered Minute Steak, spinach salad
*Leftover steaks will go in a sandwich on Saturday night!
Friday: Pizza Night! Black Bean Pizza (using Homemade Pizza Dough with Homemade Pizza Sauce)
*Topping with all the leftover vegetables and some black beans I have in the freezer from a crockpot cook day.

Saturday: Tomato Sauce Steak Sandwich
*Using the leftover tomato covered minute steak and slicing finely over bread, topping with tomato sauce.
What is on your weekly meal plan this week? I'd love to hear your ideas!
Any Store Meal Plan
Berries, sweet oranges, basil, broccoli, and cucumbers are just some of the fabulous in season produce you will find on sale wherever you shop. (Print out my full listing on my Seasonal Fruits and Vegetables Chart.) Try these recipe ideas:
Find out What to Buy When in April, and stock up on food items at their lowest prices!
KROGER (Prices good all week)
Kroger will be offering new Golden Deals e-coupons to download beginning Sunday.
There are some great prices on produce this week. Yellow Squash, Zucchini Squash & Eggplant & are all on sale – perfect for making my Roasted Vegetable Lasagna! California Navel Oranges ($.74/lb), Anjou, Bosc or Red Anjou Pears ($.88/lb), Green Beans or Yellow or Zucchini Squash ($.99/lb), Eggplant ($1.00), and Vidalia Sweet Onions ($.64/lb) Be sure to check the Kroger Deals for a printable coupon for Vidalia Onions.
In the meat department, you'll find Tennessee Pride Country Sausage ($3.00), Boneless Top Sirloin Steak ($4.99/lb), and Boneless, Skinless Chicken Breasts or Thighs ($1.88/lb).
STOCK UP on Kellogg's cereals and Bounty paper towels.
ORGANIC DEALS: Organic Salad, 5-9 oz ($2.99), Organic Grape Tomatoes, 10 oz ( $2.50), and Hormel Natural Choice Lunch Meat, 6-9 oz ($2.88). Buying organic? Check out my post, 8 Tips for Eating Organic on a Budget HERE.
:: See all the Kroger Deals HERE.
PUBLIX (Shop before prices change on Wednesday)
In the meat department, take advantage of Chicken Leg Quarters ($.99/lb) and Boneless Chuck Pot Roast ($3.99/lb).
Publix has several great deals on produce this week, including Mangoes ($1.00) Cantaloupe ($2.00), and Green Beans or Yellow or Zucchini Squash ($1.29/lb).
As usual, you'll find plenty of great BOGO deals at Publix this week. There are lots of coupons to pair up with these to make them even sweeter, so don't miss my Publix matchups HERE.
STOCK UP on A1 Steak Sauce, 10 oz ($1.62), Kellogg's Cereal: Frosted Flakes, Corn Pops, Apple Jacks, Honey Smacks, or Rice Krispies, 12 to 16.5 oz ($2.09), Pepperidge Farm Goldfish, 6.6 to 8 oz ($1.19), Barilla Pasta, 13.25 to 16 oz ($0.61), Prego Italian Sauce, 45 oz ($1.74), and Nature's Own Bread, 20 oz ($1.44).
:: See all the Publix Deals HERE.
I always hope that I'm providing you with helpful content. If you found news you could use, please share it with your friends on Facebook. Thanks for telling others about Faithful Provisions!
More Resources
I have new Shopping List templates available for you. Whether you are shopping at one store or multiple stores, you can keep things organized with these FREE downloadable lists.