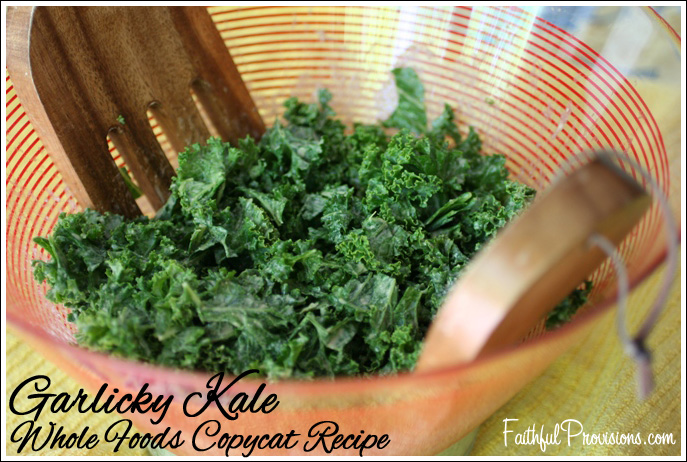 I am always looking for new tasty kale recipes since it is so nutritionally dense, and we get tons in our CSA. This one is my absolute favorite. This is the garlicky kale recipe from the Whole Foods bar.  I had it a few weeks ago when I was having dinner with some friends at Whole Foods, and once I tasted it, I had to figure out how to make it! Raw kale recipes can be hard to make taste great, but this one is a must try.  For those of you wondering what this tastes like, this kale greens recipe reminds me a lot of a Caesar salad dressing, but much tastier.
*Scroll down to use print recipe feature and add to your Recipe Box.
I absolutely crave this simple kale recipe.  When I make it, I will double the dressing recipe and keep it in the fridge to pour over some raw massaged kale. Since the kale is so hearty, it keeps well in the refrigerator overnight too.
What is massaged kale? I know that sounds weird, but since kale is dense with nutrients, you need to "massage" it to break it down a bit for digestion. All you do is crush or "massage" it in your hands for about 10-15 seconds before you put it in the bowl to serve. You will notice that by massaging the kale before you eat it, it turns a brighter green color and tastes less bitter.
If the ingredient "nutritional yeast" throws you off, it did me too, if that makes you feel any better!  I found this in the bulk section at my Whole Foods store, and it was pretty inexpensive. If you have never had it before, nutritional yeast has a strong flavor that is described as nutty, cheesy, or creamy. You can read more about it here.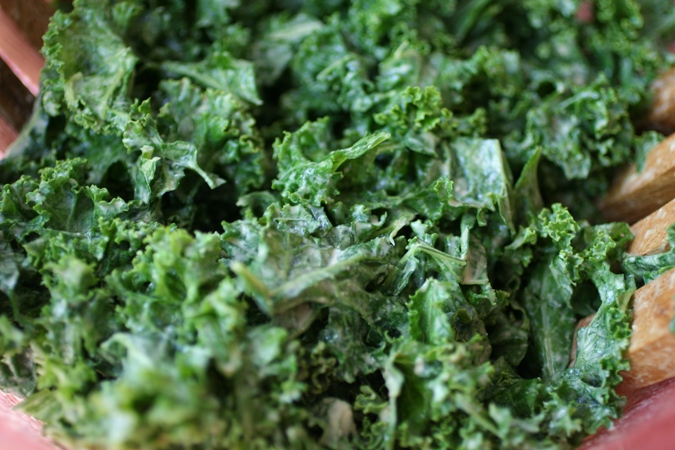 Did you know kale is the most nutrient-dense food you can eat? (Kale recipes are among the top heart healthy foods HERE.) Until about two years ago, I wasn't into eating raw kale, but now we eat it in all kinds of easy recipes. We enjoy kale in many different salad recipes, we put it in smoothies, or we juice it. We were introduced to kale when we signed up for our first CSA (Community Supported Agriculture) share. I wasn't sure what to do with it and actually dreaded our share each week.  Now I am really looking forward to having so much on hand!  I have pretty much replaced lettuce purchases with kale and spinach, since the nutritional makeup is so much higher – and I can do so much with it.
Garlicky Kale Recipe from Whole Foods
Ingredients
1 bunch kale, de-stemmed, chopped and massaged
1 tablespoon Bragg's Amino Acid (or soy sauce)
2 tablespoons tahini paste
2 tablespoons lemon juice (or one lemon)
2 tablespoons water
4 tablespoons nutritional yeast
2 cloves garlic, minced
Black pepper, to taste
Instructions
Put all ingredients (except for kale) into a blender, adding nutritional yeast last. (Adding it first causes it to gum up the blades and stick to the base.)
Mix until smooth.
Transfer kale to a salad bowl, then pour dressing over the top and toss until coated.
Store any leftovers in the refrigerator.
Anyone else eat raw kale on a regular basis in different recipes? Vegetarians and kale lovers, please share! I would love to hear your ideas and easy recipes for kale in the comments below.
You might also like: