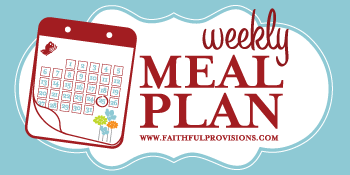 Need ideas for your weekly meal plan? I'm listing some of the things on sale at your grocery stores and then following that with recipes from my Recipe Box that coordinate with those sales. Let me know if you like this and if it helps you out with planning your meals this week.
*If you think it's something your friends could use, please share it on Facebook using the button above!
Click on a Plan Below
My Weekly Meal Plan
Last week, since it was spring break here, we ended up going on an impromptu trip with my husband while he was working. So, our meal plan went out the window! I have been trying a lot of new recipes lately, especially around kale. We have a ton of seeds planted in the garden and we just signed up for our CSA again, so we know we'll have lots to use. This week I will share my absolute favorite way to eat kale now, garlicky kale salad – a copycat recipe from Whole Foods, you will LOVE it!!
Also, the next few weeks are kind of crazy, we have soccer practice, games and this week we start swim lessons. All of which are at dinner time, so I'll be keeping it really easy again.
Sunday: Easter Dinner leftovers
Monday: Garlicky Kale Salad, Cajun Sweet Potatoes
Tuesday: Chicken Fajitas
* I will cook up a huge batch of grilled chicken to use in sandwiches and such for the rest of the week.
Wednesday: Greek Chicken Pita
*Using leftover chicken and grilled veggies from Tuesday night's fajitas.
Thursday: Southwestern Burritos
Friday: Pizza Night! Homemade Pizza Dough with Homemade Pizza Sauce
*Top with whatever is left in fridge, my new favorite is fresh chopped spinach, sliced tomatoes, green olives, pepperocinis and artichokes.

Saturday: Guacamole Burgers, Sweet Potato Fries
What is on your weekly meal plan this week? I'd love to hear your ideas!
Any Store Meal Plan
Berries, sweet oranges, basil, broccoli, and cucumbers are just some of the fabulous in season produce you will find on sale wherever you shop. (Print out my full listing on my Seasonal Fruits and Vegetables Chart.) You should be able to get great deals on ham/pork this week, especially if you check your manager's specials on Monday or Tuesday. Try these recipe ideas:
Find out What to Buy When in April, and stock up on food items at their lowest prices!
KROGER (Prices good all week)
You'll like the new ad Kroger is running called, "Make It a Grill Night" Mix-or-Match event this week.  Purchase $20 in participating items and receive a $5 Catalina couponat checkout (or purchase $10 and receive a $2 coupon). We love grilling around here, so I am excited about this event. There are tons of great deals on meat, so stock up now for great meals throughout grilling season: Ball park Franks, 16 oz (excludes beef) ($2.00), T-Bone Steaks ($6.99/lb), Perdue Split Chicken Breasts ($.99/lb), and Tilapia or Cod Fillets ($4.99/lb).
You'll find these deals in the produce section: Jumbo Cantaloupe ($1.77), Red Tomatoes on the Vine ($.98/lb), Fresh Selections Classic Garden Salad, 12 oz ($0.98), Pineapple, whole or cored ($1.99), Broccoli ($1.69), and Bell Peppers: Red, Yellow or Orange ($1.25).
ORGANIC DEALS: Organic Asparagus ($2.99/lb), Organic Yams, 3 lb bag ($2.99), Organic Fuji Apples ($1.49/lb), Organic Strawberries, 16 oz ($2.99).
:: See all the Kroger Deals HERE.
PUBLIX (This ad runs from Monday, April 9 – Tuesday, April 17th)
Publix is closed for Easter. The new ad begins tomorrow.
You'll find lots of great STOCK UP prices with these BOGO specials: A1 Steak Sauce, 10 oz ($1.62), Pepperidge Farm Goldfish, 6.6 to 8 oz ($1.19), Barilla Pasta, 13.25 to 16 oz ($0.61), Kraft Velveeta Cheesy Skillets, 12.86 to 15.66 oz ($1.49), and Ken's Steak House Dressing, 16 oz ($1.77).
The Publix meat department is offering Jennie-O Smoked Turkey Sausage or Turkey Kielbasa, 95% fat free, 14 oz pkg ($2.50) and Chicken Leg Quarters ($.99/lb).
In the Publix produce aisles, you'll like Cantaloupe ($2.00), Mangoes ($1.00), and Green Beans or Yellow or Zucchini Squash ($1.29/lb).
:: See all the Publix Deals HERE.
I always hope that I'm providing you with helpful content. If you found news you could use, please share it with your friends on Facebook. Thanks for telling others about Faithful Provisions!
More Resources
I have new Shopping List templates available for you. Whether you are shopping at one store or multiple stores, you can keep things organized with these FREE downloadable lists.