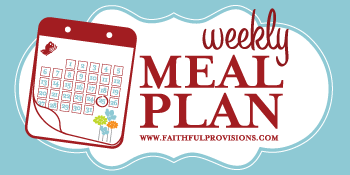 I'm really excited about my meal plan for this week. You'll know why when you see all the goodies that were in my CSA box:
Slicing Tomatoes
Patty Pan Squash
Cantaloupe
Hot peppers:
Pablano Pepper(A tiny bit of heat)
Jalapenos-(lots of heat, short, dark green, Bull Horn Peppers (curly, a little hot)
Cucumbers
Potatoes
Okra
Bell Peppers
Eggplant
Such a great variety of fresh vegetables gives me tons of options for our dinners this week. Plus, I am able to pull out some recipes that we haven't enjoyed since this time last year.
My Weekly Meal Plan
Every week, I want to be sure that my weekly meal plan incorporates the healthiest foods that I can get for the best price. Choosing to build dinners around what is in season and on sale is one of the most effective ways to save money. Here's what's on our schedule for this week:
Sunday: Eggplant Parmesan Pasta – This recipe was one of the first that I ever tried with eggplant. You'll find step-by-step instructions and pictures with the recipe.
Monday: Grilled Chicken with my chilled Cucumber Salad and cantaloupe for dessert.
Tuesday: Philly Cheesesteak sandwiches loaded with sliced bell peppers
Wednesday: Salmon with Panko Crust over greens, with baked potatoes and freshly sliced tomatoes. Finishing up the cantaloupe for dessert.
Thursday: Thai Eggplant and Tomato Pasta salad. I'm going to just slice up and steam some patty pan squash to go with this.
How do you prepare and serve patty pan squash? I would love some ideas!
Friday: We're splurging tonight with BLT sandwiches. Not particularly healthy, but we are using whole wheat bread, garden fresh lettuce, and grilling the bacon (less fat). These juicy slicer tomatoes were just screaming to be used on BLT's–what could I do??
Saturday: Stuffed Poblano peppers with a side salad.
I always hope that I'm providing you with helpful content. If you found news you could use, please share it with your friends on Facebook. Thanks for telling others about Faithful Provisions!
More Resources
I have new Shopping List templates available for you. Whether you are shopping at one store or multiple stores, you can keep things organized with these FREE downloadable lists.