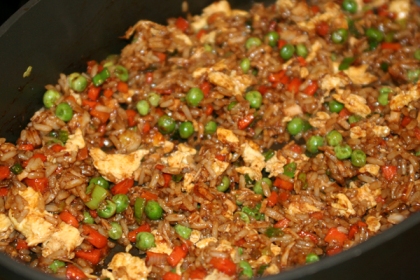 This recipe for pork fried rice is one that I love for several reasons. It's super easy, it tastes great, but for me, the best part about this recipe is that I use leftover pork.
*Scroll down to use print recipe feature and add to your Recipe Box.
Pork Fried Rice Recipe: Easy to Make with Leftover Pork
This pork fried rice recipe, easy to make with leftover pork, actually started several days ago when I cooked pork in my slow cooker. (It smelled heavenly as it cooked!) That night, we were just eating a roasted herbed pork with vegetables on the side. It wasn't even a Chinese recipe, and I didn't season it that way. This is how easy it is to morph leftovers from one meal into an entirely different one. From what we didn't eat that night, I was able to save the leftover pork and give it new life in this pork fried rice recipe. Easy! I absolutely love doing that: cooking once, and then eating twice (at least). Not only does it save me time, but it also saves money and effort.
Pork Fried Rice Recipe: Chinese Style
This pork fried rice recipe, Chinese style, gets its flavor from the hoisen sauce. If you don't have any on hand, you can easily substitute black bean sauce or even soy sauce.
When you freeze your leftover pork in one- and two-cup portions, you'll have it ready to use in several different recipes, like this pork fried rice and my pork quesadillas. My family doesn't even know that they are eating leftovers!
Recipe for Pork Fried Rice
Ingredients
1 cup diced pork (leftover)
2 carrots, diced or shredded
3 green onions, chopped (or you can use white onion diced)
2 garlic cloves, minced
1 cup peas, frozen
2 cups leftover rice (I prefer brown)
4 tsp peanut oil (use canola if that is all you have)
2 eggs, beaten
¼ cup hoisen sauce or black bean sauce (or you can use 4 tablespoons soy sauce)
Instructions
Heat 2 teaspoons of oil and scramble eggs.
Set aside in another bowl to add in later.
Add remaining oil and saute garlic and carrots for 2 minutes, then add onions, peas, rice, pork, and sauce. Stir to mix.
Add scrambled eggs back in, mix.
Serve with green salad or carrot salad with ginger dressing.
Serving suggestions: We have done this easy fried rice recipe as our main course before. My husband and I had green salads with it, and I cut up some broccoli and cauliflower for the kids to have with theirs. Of course, it is the perfect side for any Chinese recipes that you want to try with it.
Recipe developed by Kelly Hancock ©2010 Faithful Provisions. For personal use only. May not be reproduced, reprinted or distributed for capital gain without prior permission from Kelly Hancock.