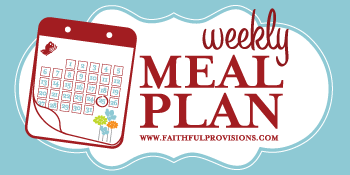 Need ideas for your weekly meal plan? I'm sharing my plan for dinners this week. Let me know if you like this and if it helps you out with planning your meals this week.
*If you think it's something your friends could use, please share it on Facebook using the button above!
My Weekly Meal Plan
Sunday: I'm putting a pork roast in the crock pot early in the morning. We'll be having that for our Sunday dinner and using the leftovers through this week in a few different meals. Today we'll have the roast with my cream cheese mashed potatoes, freshly sliced tomatoes, and skillet green beans.
Monday: Tacos Carnitas with Guacamole and Pico di Gallo Using leftover pork this is a terrific, easy meal. Avocados were on sale at Aldi last week, so it's the perfect time for some fresh guacamole.
Tuesday: Garden salads with baked potatoes. I love an easy, fresh meal like this. I'll use a simple salad dressing like a Greek Vinaigrette or Red Wine Vinaigrette. (Scroll down for a link to my Recipe box!)
Wednesday: Roasted Eggplant Pasta.
Thursday: Easy pork fried rice with Asian slaw and egg rolls. (Recipe coming soon!) These are some of my newer recipes. The rice has quickly become a favorite with the kids!
Friday: Date night!
Saturday: Nachos! I've got tons of sweet and spicy peppers that Bradford and I will use for toppings. The kids, of course, tend to go for the milder toppings like tomatoes, beef, and cheese.
You can all the suggested recipes in my Recipe Box HERE.
What is on your weekly meal plan this week? I'd love to hear your ideas!
More Resources
I have new Shopping List templates available for you. Whether you are shopping at one store or multiple stores, you can keep things organized with these FREE downloadable lists.