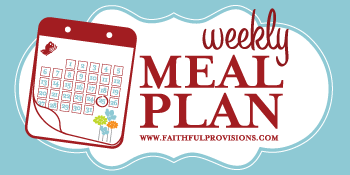 My Weekly Meal Plan
In case you haven't noticed, there are tons of great produce deals right now, and I'm incorporating fresh healthy dishes in my weekly meal plan. I've been in the kitchen for the past few weeks doing some kind of produce prep, from freezing grapes and diced green peppers to putting up quick pickles, basil pesto, and guacamole– anything I can do to preserve some of this great produce coming in.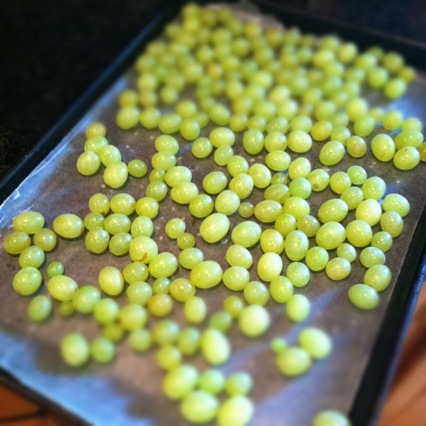 If you eat organic, you need to check out  your local Kroger and see if they have their grapes on sale. We love to freeze them and eat them in smoothies or just as a snack. My kids call them "sweet marbles."
I think I am going to attempt canning tomatoes this weekend. In all honesty, I am petrified! The last thing I would want to do is lose time or money, but I know that I if I want those home-canned tomatoes and salsa dips, I'm going to have to try it.
When we picked up our CSA box on Saturday morning, it was filled with cabbage, kale, our first eggplants, lots of cucumbers, green peppers, squash, and our first potatoes of the season. I've got some great recipes for your meal plan ideas this week.
Sunday: Avocado, tomato, and cucumber sandwiches, grapes, and carrots
Monday: Roasted Eggplant Pasta I went ahead and roasted both eggplants when I had the oven on. Half of it will go in this recipe, the other will go in a Thai salad night.
Tuesday: Thai Eggplant and Tomato Pasta Salad
Wednesday: We're celebrating July 4th at a picnic with friends. I'll be taking my Cabbage Salad with Apples and Ginger Vinaigrette and sliced watermelon.
Thursday: Roasted Crock Pot Chicken with finger potatoes and grilled squash
Friday: Burgers with Steak Fries

Saturday: Refreshing Cucumber Salad with BBQ Chicken Pizza
What is on your weekly meal plan this week? I'd love to hear your ideas!
Find out What to Buy When in July, and stock up on food items at their lowest prices!
I always hope that I'm providing you with helpful content. If you found news you could use, please share it with your friends on Facebook. Thanks for telling others about Faithful Provisions!
More Resources
I have new Shopping List templates available for you. Whether you are shopping at one store or multiple stores, you can keep things organized with these FREE downloadable lists.