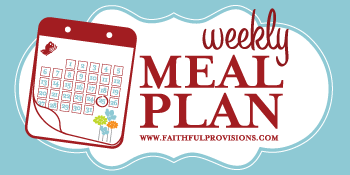 Need ideas for your weekly meal plan? I'm listing some of the things on sale at your grocery stores and then following that with recipes from my Recipe Box that coordinate with those sales. Let me know if you like this and if it helps you out with planning your meals this week.
*If you think it's something your friends could use, please share it on Facebook using the button above!
Click on a Plan Below
My Weekly Meal Plan
Another great box this week from our CSA, here is what our box had: Red Cabbage, Collard Greens, Cucumbers, Yellow Squash, Garlic, Swiss Chard, Green Cabbage, Lettuce, Patty Pan Squash, and Heirloom Tuscan Basil. I am planning all my meals around my fresh produce first, then filling in where needed.  Didn't need to do much filling.  The only main thing I need at the grocery this week is fish and staples like milk, OJ and apples. Yippie!
Sunday: Grilled kale, cabbage, squash and onions over pasta with a fresh homemade basil pesto
*I'll make pesto to freeze from our huge bunch and double our veggies to use on a garden salad tomorrow night.
Monday: Grilled Vegetable Garden Salad
*using leftover grilled veggies from doubling on Sunday.
Tuesday: Pesto Pasta with cucumber tomato salad
Wednesday: Panko Crusted Fish over Swiss Chard
Thursday: Grilled Cabbage, crock-pot white beans and corn cakes
Friday: Pizza Night! Homemade Pizza Dough with Homemade Pizza Sauce
*Top with whatever is left in fridge, my new favorite is fresh chopped spinach, sliced tomatoes, green olives, peperocinis and artichokes.

Saturday: Roasted Vegetable Fritatta, fresh fruit
What is on your weekly meal plan this week? I'd love to hear your ideas!
Any Store Meal Plan
Fresh summer produce and plenty of deals on grilling meats make this a terrific month for delicious meals. Try any of these recipes and most of the ingredients should be on sale wherever you shop.
Find out What to Buy When in June, and stock up on food items at their lowest prices!
KROGER (Prices good all week)
The Buy 5, Save $5 Mega event continues this week. Find great prices on produce including Green Beans, Yellow or Zucchini Squash, and Tomatoes on the vine. In the meat department, look for the advertised specials on Kroger Value Boneless, Skinless Chicken Breasts or Thighs, Laura's Lean Ground Beef, and Atlantic Salmon Fillets, farm raised.
Stock up on (price shown is after coupon matchups):
Keebler Club or Town House Crackers – $1.49
Kellogg's Cereal, select varieties – $.99
Kellogg's Fruit Snacks – $1.39
Pop Tarts, 6-12 ct – $1.66 (wyb 3)
Recipes to try this week:
 :: See all the Kroger Deals HERE.
PUBLIX (Shop before prices change on Wednesday)
There are a ton of things to stock up on this week at Publix, so be sure to check out my complete coupon deals and matchups. Lots of great deals in the produce section, including Baby Portabella Mushrooms, Whole or Sliced, Idaho Potatoes, Mangos, and Southern Blueberries or California Raspberries. Check the meat department for Boneless Ribeye Steaks and Pork Loin Country Style Ribs or Pork Sirloin Chops, All Natural.
Stock up on (price shown is after coupon matchups):
Oscar Mayer Wieners, Meat, Bun Length or Jumbo, 16 oz – $1.79
Ken's Steak House Dressing, 16 oz – $1.27
Quaker Oats, 18 oz – $1.43
Old El Paso Dinner Kit, 8.4 to 19.2 oz – $1.09
Ocean Spray Craisins, 5 to 6 oz – $.22
Ragu Pasta Sauce, 16 to 24 oz – As low as $.59 + FREE taco shells wyb 2
Pompeian Imported Olive Oil, 16 oz – $1.99
Libby's Canned Vegetables, 14.5 to 15.25 oz – $.34 ea/ wyb 4 + submit for rebate (Great for your local food pantry!)
Recipes to try this week:
:: See all the Publix Deals HERE.
I always hope that I'm providing you with helpful content. If you found news you could use, please share it with your friends on Facebook. Thanks for telling others about Faithful Provisions!
More Resources
I have new Shopping List templates available for you. Whether you are shopping at one store or multiple stores, you can keep things organized with these FREE downloadable lists.