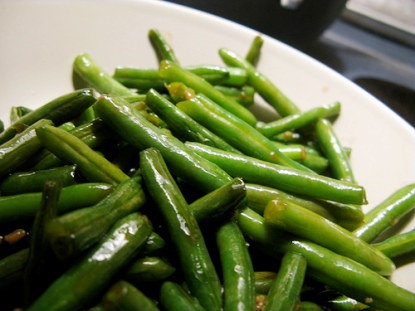 You'll love this recipe for Marinated Green Beans. This is an easy summer recipe for green beans, perfect to take along to a picnic, cookout, or potluck event. There is nothing perishable in this recipe, and the good thing is, the longer it marinates, the better it tastes.
*Scroll down to use print recipe feature and add to your Recipe Box.
I love fresh, home-canned green beans for this recipe, but store-bought canned green beans work just as well. And if you have fresh green beans from your garden, just cook them until they are soft, then proceed with the recipe instructions. Delicious!
Green Beans Side Dish
You know how I love strong flavors, and this green beans side dish suits my tastes perfectly. If offers up a sweet, vinegar-ish taste, but very light and fresh. For this recipe, green beans work best with Vidalia onions. Vidalia is my onion of choice because it will give an added sweetness to the flavor mix.
Marinated Green Beans
Ingredients
3 cans green beans, drained
2 onions, sliced
¾ cup sugar
½ cup apple cider vinegar
3 tablespoons water
3 tablespoons canola oil
2 garlic cloves, minced
Salt and pepper, to taste
Instructions
Combine sugar, vinegar, water oil, garlic cloves and salt/pepper in a small bowl and stir until mixed.
In a shallow dish, lay green beans and onions, then pour liquid mixture over the top.
Marinate and refrigerate for 24 hours.
Serve cold or at room temperature.
Recipe developed by Kelly Hancock ©2010 Faithful Provisions. For personal use only. May not be reproduced, reprinted or distributed for capital gain without prior permission from Kelly Hancock.
Find more great side dishes in my Recipe Box!