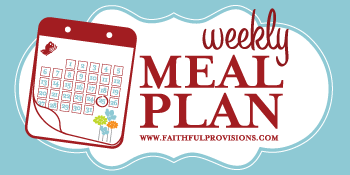 Need ideas for your weekly meal plan? I'm listing some of the things on sale at your grocery stores and then following that with recipes from my Recipe Box that coordinate with those sales. Let me know if you like this and if it helps you out with planning your meals this week.
*If you think it's something your friends could use, please share it on Facebook using the button above!
Click on a Plan Below
My Weekly Meal Plan
The past few weeks I have been keeping it very easy in the kitchen. Life has been busy and dinners have been as simple as grilled sandwiches with fruit. I find the kids love it, my husband loves it and I love the easy cleanup! Especially as we move into summer, I will keep it simple by making impromptu salads and using whatever is on sale and is in my fridge. One of my new favorite things is getting the deli meat at Whole Foods. It is a little more than packaged meat, but it tastes exponentially better and my family can tell a huge difference.  I didn't even know that they had a deli counter!
Also, we have pulled out our juicer again. Curious, any of you juice, or interested in it? We have been juicing to get more fruits and vegetables in our diet, but have found that fresh juice tastes so amazing.  I will admit, juicing can get a little pricey having all the fresh produce on hand.  But, with summer upon us, produce prices are dropping.  Plus, I think it is a very worthwhile investment to spend more on the foods we put into our body. I have begun to focus more on saving in non-food areas these days, to keep costs down.
Knowing I am cooking a whole chicken in the crock pot on Tuesday, I will go ahead and pull my chicken out of the freezer today and put it in my fridge.  Usually takes a couple of days in the refrigerator to thaw.
Sunday: Homemade Calzones (spinach, ham and cheese), cantaloupe
*I have lots of veggies and leftover sauce from Friday's pizza night.  I honestly don't think any of us ever get sick of italian!
Monday:  Sandwiches and fruit
*Ainsley has her first soccer game, so we are keeping dinner light and simple so we can head out to watch her!
Tuesday: Slow Cooker Herb Chicken with Rice and Spinach
Wednesday: Greek Chicken Pita with hummus
*We will use leftover pulled chicken from last night, and sauteed onions/peppers from freezer.
Thursday: Picnic Pasta , side spinach salad and fruit
Friday: Pizza Night! Homemade Pizza Dough with Homemade Pizza Sauce
*Top with whatever is left in fridge, probably BBQ Chicken Pizza since we have leftover pulled chicken.

Saturday: Dinner Out
* We plan to eat out after church on Saturday night using a BOGOF dinner coupon.
What is on your weekly meal plan this week? I'd love to hear your ideas!
Any Store Meal Plan
Has spring sprung in your neck of the woods? We're experiencing highs in the 70's here, and we are loving it! Wherever you shop, you'll find great deals on in-season fruits and veggies. Be watching for deals on broccoli, head or iceberg lettuce, mangoes, and sweet oranges, and check out my complete listing of March's in-season fruits and veggies HERE. Also, it is National Frozen Foods Month, so if you don't always hit the freezer aisles in your store, make sure you do so this month. You're sure to find entrees, pizza, and more on sale. Plus, snacks (chips and dips) and soft drinks are on sale to celebrate March Madness. The recipes below showcase what should be on sale, and recipes that tend to be a lower price.
Find out What to Buy When in March, and stock up on food items at their lowest prices!
KROGER (Prices good all week)
It's Week #2 of the "March Madness" Mega Event. Many items are a repeat from last week, but there are some deals you'll want to get before their coupons expire on Saturday. (Check your expiration dates!) In the meat department, you'll find deals on Perdue Boneless Skinless Chicken Breasts ($1.99/lb), Tilapia Fillets ($4.99/lb), and Shrimp Ring, 10-100ct – BOGO Free.
In the produce aisles, you'll find Kroger Jumbo Russet Potatoes, 8 lb bag ($2.99), Red Slicer Tomatoes ($.99/lb), Anjou or Red Anjou Pears ($.99/lb), and more.
FROZEN FOOD DEALS: Jimmy Dean Breakfast Skillets or Sandwiches ($3.99), Smart Ones Entree ($1.49), and Tombstone Pizza ($2.99).
STOCK UP on drinks for upcoming outdoor events: SunnyD, 64 oz ($.99), Fuze, 16.9 oz ($.79), Vitaminwater or Smartwater Sport Cap ($.75), Deer Park Water, 3 liter ($.49), CapriSun, 10 ct ($1.79).
**The new Philadelphia Cooking Creme continues to be on sale this week. Why not get some and try the Baked Penne below!**
:: See all the Kroger Deals HERE.
PUBLIX (Shop before prices change on Wednesday)
Lots of great BOGO items are available at Publix this week, so be sure to check out all the Publix Deals with coupon matchups HERE. Using coupons makes a significant difference when paired with a BOGO sale! In the meat department, check out Boneless Chuck Pot Roast ($3.49/lb), Publix Tuna Steaks, 12 oz ($5.99), Fresh Salmon Fillets ($5.99/lb), and Murphy & David or Mosey's Corned Beef Brisket ($3.49/lb). Try my recipe for Corned Beef Brisket HERE.
Publix produce shines as usual this week with sales on Florida Strawberries, 16 oz ($1.67), Red Potatoes, 5 lb ($2.99), and Publix Sliced or Whole White Mushrooms, 8 oz ($1.69)–Great for pizza night on Friday!
STOCK UP on Mueller's Pasta, 12 to 16 oz, (excluding Lasagna, Jumbo Shells, and Noodles) ($0.78), Tostitos Salsa 9.9 to 15.5 oz ($1.47), Ken's Steak House or Sweet Baby Ray's Marinade & Sauce, 16 oz ($1.49), and Land O Lakes Butter, 7 to 8 oz – $1.09. *Pasta is a staple item that is always welcomed by your local food pantry and soup kitchens, along with salad dressing and salsa.
:: See all the Publix Deals HERE.
I always hope that I'm providing you with helpful content. If you found news you could use, please share it with your friends on Facebook. Thanks for telling others about Faithful Provisions!
More Resources
I have new Shopping List templates available for you. Whether you are shopping at one store or multiple stores, you can keep things organized with these FREE downloadable lists.