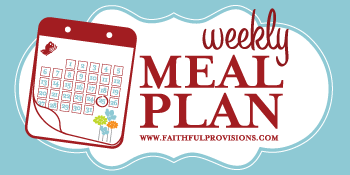 Need ideas for your weekly meal plan? I'm listing some of the things on sale at your grocery stores and then following that with recipes from my Recipe Box that coordinate with those sales. Let me know if you like this and if it helps you out with planning your meals this week.
*If you think it's something your friends could use, please share it on Facebook using the button above!
[pinit]
Click on a Plan Below
My Weekly Meal Plan
With spring in full swing here I have paired down our dinners to light and very easy meals. This time of year we get pretty busy and do lots of leftovers, salads and meals that don't need a lot of forethought. For example, as always, we will stick pretty strictly with what we have on hand.  But, I do end up making a few more trips to the store than usual these days for fresh produce, since we are juicing nearly every day – sometimes twice!  I am not so worried about increasing the grocery budget a bit, because I try to purchase the produce that is on sale and in season to keep the overall grocery budget down.  And, I know that it is great for my family's overall healthy, which is ultimately one of my main concerns. And yours too I am sure!
Sunday: Community Group (no cooking for me!)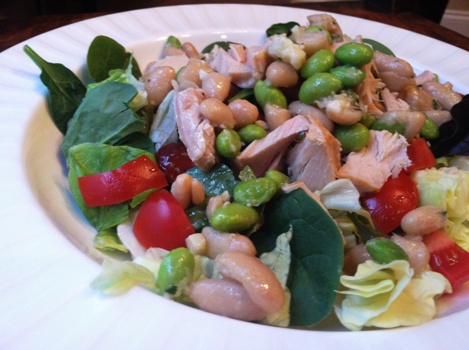 Monday: Tuna and Bean Salad with Red Wine Vinaigrette
*I make up a big batch of my Green and White Bean Salad and keep it on hand for an easy light lunch or to put over the top of this salad. Hope to have this recipe up this week for you!  But basically just add a can of tuna, diced tomato over a bed of greens, a few tablespoons of the bean salad and then top with the red wine vinaigrette. 
Tuesday: Bean and Rice Burritos
*Again, using what I have on hand… rice and refried beans mixed together, spread over whole wheat tortillas and topped with lettuce, cheese, guacamole and pico/salsa.
Wednesday: Grilled Quesadillas with fruit
Thursday: Mini Cheddar Meat Loaves, steamed broccoli, potatoes
*Hoping to have this recipe next week if it turns out well. 🙂
Friday: Pizza Night! Homemade Pizza Dough with Homemade Pizza Sauce
*Top with whatever is left in fridge, my new favorite is fresh chopped spinach, sliced tomatoes, green olives, peperocinis and artichokes.

Saturday: Dinner out with friends after church — our favorite mexican!!
What is on your weekly meal plan this week? I'd love to hear your ideas!
Any Store Meal Plan
Spring is making a comeback in the southern region of the country this month, and you'll find great deals on several favorite fruits and veggies. Be watching for deals on basil, broccoli, and cucumbers, and check out my complete listing of March's in-season fruits and veggies HERE. Also, it is National Frozen Foods Month, so if you don't always hit the freezer aisles in your store, make sure you do so this month. With March Madness heading toward its peak, you're sure to find entrees like burgers, pizza, and Mexican foods on sale in your frozen section–quick and easy while you're watching the games!
Find out What to Buy When in March, see more recipes, and stock up on food items at their lowest prices HERE!

KROGER (Prices good all week)
There's a great promotion at Kroger this week called 'Quarter-back' savings. Receive $0.25 (in a Catalina coupon) to use on your next shopping trip for every participating item purchased in one transaction. In addition, you can get $4 off your order when you buy 4 participating household needs products in 1 transaction (mostly P&G items).
In the Kroger meat department, you'll find great deals this week like Perdue Fresh Chicken Drumsticks or Thighs ($.88/lb), T-Bone Steaks ($6.99/lb), Catfish or Tilapia Fillets ($4.99/lb), and Hillshire Farm Smoked Sausage ($2.50).
Great produce buys include: Cucumbers ($.50/each), Blackberries, 6 oz ($1.66), Red Tomatoes on the Vine ($.99/lb), and Sweet Corn ($.33/each).
And STOCK UP on Birds Eye Frozen Vegetables, 9-12 oz ($1.00), Kroger Cheese: Shreds, Bars, Singles ($1.66), and Kroger Large Eggs, dozen ($1.00). Yes, you can stock up on eggs! See my post, How to Freeze Eggs, HERE.
With eggs on sale this week, be sure you take advantage of the savings! I've got a complete listing of Freezer Friendly Egg Recipes: Quiches, Pies, and More HERE.
:: See all the Kroger Deals HERE.
PUBLIX (Shop before prices change on Wednesday)
I was just in Publix this morning–love their produce section! This week you will find Idaho Baking Potatoes, 5 lb bag ($2.99), Bartlett Pears ($1.29/lb), Red Delicious or Fuji Apples, 3 lb bag ($2.99), Cantaloupes ($2.00), Hass Avocados ($1.00), and Yellow Onions, 3 lb bag ($1. 99). In the meat section, the best buys are Publix GreenWise Whole Chicken ($1.99/lb) and Lamb Shank ($4.99/lb). If you are planning to serve lamb for Easter, this is a great price.
STOCK UP on Kraft Shredded Cheese or Chunk Cheese, 7 or 8 oz ($1.74), GreenLine Green Beans, 12 oz, or Fresh Cauliflower ($1.49), Green Giant Frozen Vegetables, 7 to 10 oz ($.99), and Libby's Canned Vegetables, 14.5 to 15.25 oz ($.59). This is a great buy for donating to your local food pantry!
:: See all the Publix Deals HERE.
I always hope that I'm providing you with helpful content. If you found news you could use, please share it with your friends on Facebook. Thanks for telling others about Faithful Provisions!
More Resources
I have new Shopping List templates available for you. Whether you are shopping at one store or multiple stores, you can keep things organized with these FREE downloadable lists.