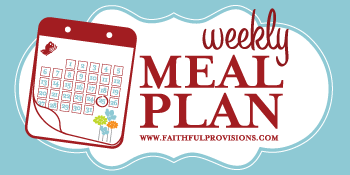 Need ideas for your weekly meal plan? I'm listing some of the things on sale at your grocery stores and then following that with recipes from my Recipe Box that coordinate with those sales. Let me know if you like this and if it helps you out with planning your meals this week.
*If you think it's something your friends could use, please share it on Facebook using the button above!
Click on a Plan Below
My Weekly Meal Plan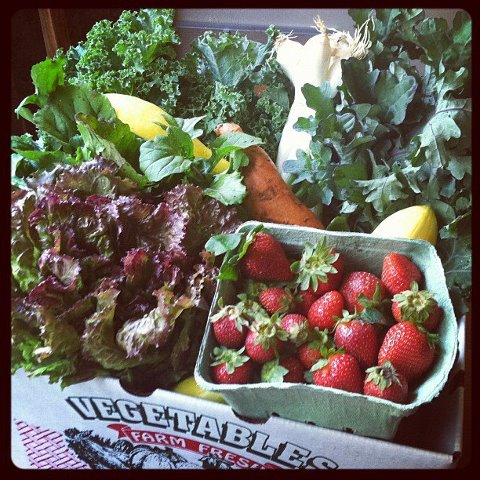 We picked up our first CSA box of the season yesterday morning and it was filled with kale, lettuce, green onions, sweet potatoes, yellow squash, arugula and strawberries! Most of our meals will be based off of this produce until we scarf it down. I'd love to know of any good recipes you have to share for these!
Sunday: CSA Share Picnic (yippie!)
Monday: Grilled squash and Green onion Salad with greek vinaigrette
*I just grilled some squash and green onions (long strips) that were marinated in my all-purpose greek marinade, then let it cool and tossed it with greens and the greek vinaigrette dressing. YUM!
Tuesday: Garlicky Kale and Cajun Sweet Potatoes
Wednesday: Kale & Bean Ragout
Thursday: Grilled Chicken and Quinoa Salad with Dried Fruit and Nuts
Friday: Pizza Night! Homemade Pizza Dough with Homemade Pizza Sauce
*Top with whatever is left in fridge, my new favorite is fresh chopped spinach, sliced tomatoes, green olives, peperocinis and artichokes.

Saturday: Caramelized Onion Gourmet Burger and Sweet Potato Fries
What is on your weekly meal plan this week? I'd love to hear your ideas!
Any Store Meal Plan
May launches the summer grilling season, not to mention luscious in-season berries and other good-for-you fruit, so you'll find grilling meats and berries on sale this month. Try these recipes and you will find most of the ingredients on sale wherever you shop.
This is the month for great smoothie recipes too!
Find out What to Buy When in May, and stock up on food items at their lowest prices!
KROGER (Prices good all week)
The Mega Event is over, but there are some really good deals in this new ad. Lots of good deals to get you ready for your Memorial Day Weekend. There's also a GREAT Catalina promotion in the ad, so check out all the details here in this week's Kroger coupons matchups.
Don't miss all the sweet produce deals this week. Kroger has Strawberries, Whole Seedless Watermelon, Vidalia Sweet Onions, and Cameo Apples on sale. Plus, you don't want to miss the specials in the meat department: Kroger Value Chicken Leg Quarters, Atlantic Salmon Fillets, and Tilapia Fillets.
Stock up on (price shown is after coupon matchups):
Eggs – $1  (Learn How to Freeze Eggs to take advantage of this rock-bottom price on eggs. )
Ball Park Franks As low as $.75 ea/ wyb 2
Kroger Sour Cream or Dips – $1.00
Popsicle Frozen Treats, 8 ct – As low as FREE
Recipes to try this week:
:: See all the Kroger Deals.
PUBLIX (Shop before prices change on Wednesday)
You gotta love Publix! Very nice ad this week, especially if you live in a region where Dr. Pepper is bottled by Pepsi. You can get 4 12-packs for FREE when you check out my deal scenario. A great deal for the upcoming Memorial Day Weekend!
You'll want to get Florida Sweet Corn, Mangoes, and delicious Florida Vine Ripened Tomatoes (for summer salads, burgers, and more). Check the Publix meat department for specials on Bottom Round Roast, Whole Pork Tenderloin, and Large White Shrimp.
Stock up on (price shown is after coupon matchups):
Carefree Liners, 36 to 60 ct, or Stayfree Pads, 14 to 24 ct ($.41)
Right Guard Total Defense 5 Anti-Perspirant and Deodorant, 2 to 4 oz ($.67)
WholeFruit Fruit Bars, 16.5 oz ($1.10)
Land O Lakes Margarine, 15 oz ($.25)
A1 Steak Sauce, 10 oz ($.62)
Mueller's Pasta, 12 to 16 oz, (excluding Lasagne, Jumbo Shells, and Noodles) ($.23)
Food pantries and homeless shelters can always use pasta, as well as grooming aids like deodorant and feminine supplies. Be sure to pick up a few extra of these items for your donation box.
Recipes to try this week:
:: See all the Publix Deals.
I always hope that I'm providing you with helpful content. If you found news you could use, please share it with your friends on Facebook. Thanks for telling others about Faithful Provisions!
More Resources
I have new Shopping List templates available for you. Whether you are shopping at one store or multiple stores, you can keep things organized with these FREE downloadable lists.