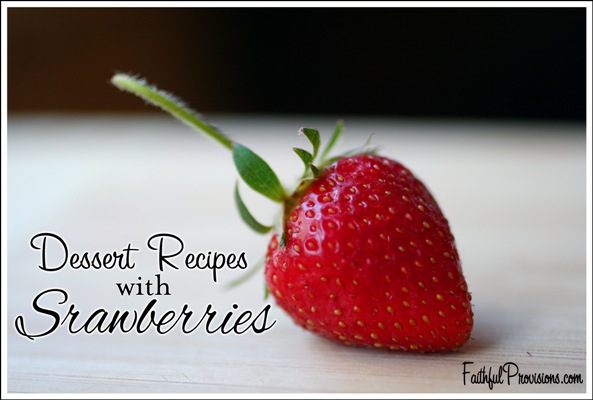 No one wants to be stuck in the kitchen when everyone else is having fun outdoors. These five easy dessert recipes with strawberries make sure you are in and out of the kitchen in very little time. Plus, I have listed a few here that your kids will enjoy creating with you.
Fresh Strawberry Topping. Slice two cups of strawberries. Add 2 tablespoons of sugar, and allow to sit for about 15 minutes. Serve over biscuits with whipped cream for a simple strawberry shortcake. (Check out these two variations of Strawberry Shortcake Recipes.) We like this as topping over yogurt and ice cream. Plus, this tastes amazing served over waffles or pancakes.
Stuffed Strawberries. These are just the right colors for your Fourth of July parties. Cap strawberries, making a hollowed-out place on top that you can fill with whipped cream. Slice the bottom off of the strawberry so that it will sit up straight. Top with a blueberry for the red, white and blue! You can make your own fresh whipped cream or used canned.
Strawberry Tostada. Brush a whole wheat tortilla with butter. Bake for 7-8 minutes on 350 degrees.  Top with any (or all!) of the following:
Fresh strawberries
Strawberry topping (recipe above)
Nutella
Honey
Whipped cream
Strawberry jam
Chocolate chips
Strawberry sauce
Mini Strawberry Dessert Pizzas. For this recipe, all you need are a dozen sugar cookies, a block of cream cheese, and two cups of powdered sugar. Blend the cream cheese and sugar together with a hand mixer until it is whipped and creamy. Spread this mixture over the cookies. Top with fresh strawberries. Depending on what you think looks good, you could top each cookie with a medium-sized strawberry, or you could top them with strawberry slices. Drizzle with honey as a final and yummy indulgence!
Coming up soon, I've got a recipe for strawberry cheesecake and easy fresh strawberry pie recipes, but if you want something a little more kid-friendly, you will want to try my strawberry cupcakes. Kids love the user-friendly size a cupcake provides. It fits perfectly into their little hands. Plus, I like the portion control that comes with them. The frozen strawberry muffins below offer the same benefits. Might be a little messier, though!
Frozen Strawberry Muffins. I love this cute idea from Two Silly Monkeys for frozen strawberry muffins. You just need strawberries and almond bark (white or chocolate) to create these delicious treats. For more details, go HERE.
I think you'll enjoy my easy recipe for Chocolate Dipped Strawberries. It's one of many more great recipes with strawberries.