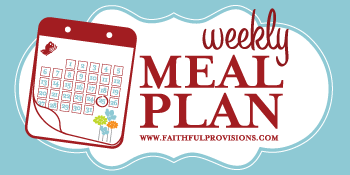 Need ideas for your weekly meal plan? I'm listing some of the things on sale at your grocery stores and then following that with recipes from my Recipe Box that coordinate with those sales. Let me know if you like this and if it helps you out with planning your meals this week.
*If you think it's something your friends could use, please share it on Facebook using the button above!
Click on a Plan Below
My Weekly Meal Plan
We almost finished up our CSA box this week, I still have a little kale, arugula and a few strawberries left. So, I will probably be making a trip to the store to stock up on in-season produce and weekly staples. This warm weather has brought on LOTS of grilling, even vegetables to go over our salads. And this week will continue the same. I hope you have a wonderful Memorial Day, be sure to get some rest!
Sunday: Pool Food and a family cookout (i'm bringing my Garlicky Kale Salad)
Monday:  Carne Asada with corn tortillas, fresh salsa and guacamole
Tuesday: Grilled Vegetable Salad with Lemon Parmesan vinaigrette (coming this week)
Wednesday: Black Bean Enchiladas, garden salad
*Using leftover beef from carne asada on Monday.
Thursday: Tomato Covered Minute Steak
*I"ll make sandwiches out of the leftovers for lunch the next day, think meatball sandwich!
Friday: Pizza Night! Homemade Pizza Dough with Homemade Pizza Sauce
*Top with whatever is left in fridge, my new favorite is fresh chopped spinach, sliced tomatoes, green olives, peperocinis and artichokes.

Saturday: Dinner out after church
What is on your weekly meal plan this week? I'd love to hear your ideas!
Any Store Meal Plan
May launches the summer grilling season, not to mention luscious in-season berries and other good-for-you fruit, so you'll find grilling meats and berries on sale this month. Try these recipes and you will find most of the ingredients on sale wherever you shop.
This is the month for great smoothie recipes too!
Find out What to Buy When in May, and stock up on food items at their lowest prices!
KROGER (Prices good all week)
Don't miss all the sweet produce deals this week. Kroger has Red Tomatoes on the Vine, Strawberries, and Sweet Corn. Plus, you don't want to miss the specials in the meat department: Perdue Boneless, Skinless Chicken Breasts, Angus Ground Chuck, and Boneless Pork Tenderloin.
Stock up on (price shown is after coupon matchups and during the 4 DAYS OF DEALS, Wed-Sat):
Chips Ahoy! Cookies ($1.49 wyb 2)
Wholesome@Home Pizza – $6.99
Kroger Liquid Hand Soap, 7.5 oz – $0.77
Recipes to try this week:
:: See all the Kroger Deals.

PUBLIX (Shop before prices change on Wednesday)
You'll want to get Haas Avocados or Mangos, Sweet Onions, and Red Seedless Watermelon. In the meat department, try Pork Spareribs, Boston Butt Roast, and Chicken Leg Quarters.
Stock up on (price shown is after coupon matchups):
Sabra Hummus, 8 to 10 oz – as low as FREE
Cool Whip Whipped Topping, 8 oz – as low as FREE
MorningStar Farms Entrees 5.25 to 12 oz – as low as $.97
Breakstone's Sour Cream, 16 oz = $.54
Recipes to try this week:
:: See all the Publix Deals.
I always hope that I'm providing you with helpful content. If you found news you could use, please share it with your friends on Facebook. Thanks for telling others about Faithful Provisions!
More Resources
I have new Shopping List templates available for you. Whether you are shopping at one store or multiple stores, you can keep things organized with these FREE downloadable lists.