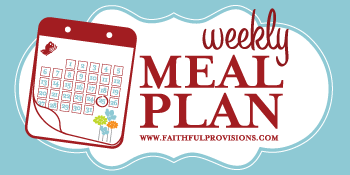 Need ideas for your weekly meal plan? I'm listing some of the things on sale at your grocery stores and then following that with recipes from my Recipe Box that coordinate with those sales. Let me know if you like this and if it helps you out with planning your meals this week.
*If you think it's something your friends could use, please share it on Facebook using the button above!
Click on a Plan Below
My Weekly Meal Plan
I am loving all these produce sales! With all the sales, we are getting our fill of fresh veggies this week.  I am going to make one of my favorite grilled vegetable combos, and triple it.  I'll use it with three different starches and sauces to change it up, see below!  Plus I will make things out of the leftover starches to keep from cooking every single night! Lastly, I like to use a little help from bottled sauces, to keep things super simple.
Sunday: Community Group PotLuck – Buffalo Chicken Dip
Monday: Southwester Burritos with rice
*I double the rice that I put inside the burritos and save half for a base to pour grilled vegetables over tomorrow night!
Tuesday: Red Curry Vegetables over Jasmine Rice
*Grilling a triple batch of cabbage, kale, onions, peppers, broccoli and zucchini to use in three dishes this week.  Using last night's leftover rice and a bottle of Thai Red Curry Sauce.
Wednesday: Crockpot Spaghetti Sauce over whole wheat noodle
*Sauce from the freezer, and I"ll double noodles for tomorrow night!
Thursday: Grilled Vegetables over noodles and ponzu sauce
*last nights noodles covered with Monday's grilled vegetables, then I sprinkle with my favorite Ponzu sauce (similar to soy, but with a citrus taste.)
Friday: Pizza Night! Homemade Pizza Dough with Homemade Pizza Sauce
*Top with whatever is left in fridge, my new favorite is fresh chopped spinach, sliced tomatoes, green olives, peperocinis and artichokes.

Saturday: Dinner Out for Mother's Day Celebration
What is on your weekly meal plan this week? I'd love to hear your ideas!
Any Store Meal Plan
May launches the summer grilling season, not to mention luscious in-season berries and other good-for-you fruit, so you'll find grilling meats and berries on sale this month. Try these recipes and you will find most of the ingredients on sale wherever you shop.
This is the month for great smoothie recipes too!
Find out What to Buy When in May, and stock up on food items at their lowest prices!
KROGER (Prices good all week)
Don't miss the new Mix and Match Mega event that begins this week. You'll find all the best deals, prices, and my Kroger coupon matchups HERE.
Kroger Value Boneless, Skinless Chicken Breasts or Thighs are at a stock up price! Plus, find Strawberries, Red Slicer Tomatoes, Sweet Corn, and Mini Peeled Carrots on sale in the produce department.
LIVING GENEROUSLY: If you're participating in Couponing for Community (see my post HERE), here are great buys for giving:
Pepperidge Farm Goldfish, 6.6-8 oz
General Mills Cereal
Nature Made Vitamins or Supplements – BOGO
Recipes to try this week:
:: See all the Kroger Deals HERE.
PUBLIX (Shop before prices change on Wednesday)
There are lots of great deals at Publix this week, so be sure to check out all the deals, prices, and my Publix coupon matchups HERE.
Limes, Florida Sweet Corn, Mangos, and Haas Avocados are on sale in the produce department. For meats this week: Check out the Fresh Salmon Fillets, and from Butterball, try Smoked Turkey Bacon or Smoked Sausage, Polska Kielbasa, or Variety Pack, 12 to 14 oz.
LIVING GENEROUSLY: If you're participating in Couponing for Community (see my post HERE), here are great buys for giving:
Ragu Pasta Sauce, 45 oz – BOGO
Uncle Ben's Original Converted Rice, 5 lb
Pasta or Rice a Roni Side Dishes, 3.8 to 7.2 oz
:: Don't forget: Saturday, May 12, is Stamp Out Hunger Day! Learn more HERE.
Recipes to try this week:
:: See all the Publix Deals HERE.
I always hope that I'm providing you with helpful content. If you found news you could use, please share it with your friends on Facebook. Thanks for telling others about Faithful Provisions!
More Resources
I have new Shopping List templates available for you. Whether you are shopping at one store or multiple stores, you can keep things organized with these FREE downloadable lists.