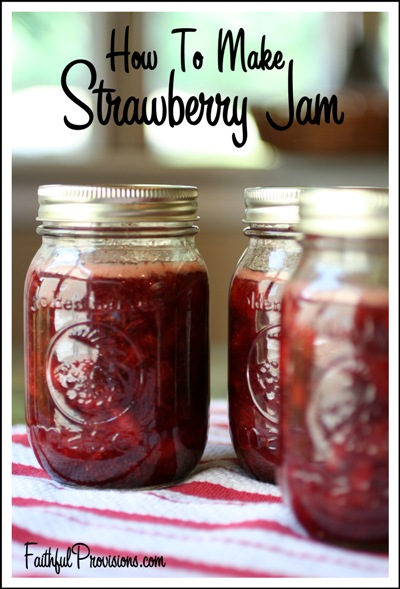 Wondering how to make strawberry jam? Here is my easy strawberry jam recipe without pectin, that uses just two ingredients: strawberries and sugar (and this is a low sugar freezer jam). This recipe is about as simple as it can get, and made even simpler by using the freezer versus a canning method. Strawberry Jam without pectin won't be quite as thick, but that is the way I like mine, plus once it is frozen it is perfect. Or, you could leave a jar in the refrigerator to pour over a warm biscuit with butter!
Why no pectin?
Pectin is what makes the mixture more "jelly" like. I learned while researching that there is naturally occurring pectin in unripe strawberries.  So, if you have a few strawberries like the two above, with the green tips, it is good to use those in your jam when you make it without pectin. The absence of pectin will make for a less congealed jam, but if you cook it low and slow, you can get a thicker consistency without pectin (by cooking on low for up to 2 hours). I am not a fan of the consistency pectin produces, so that is why I omit it.
If you choose to put these into glass mason jars instead of plastic containers, I would recommend just boiling the jars and lids in a large stockpot for around 20 minutes to sterilize, while your jam cooks.  Leave the jars in the warm water until you are ready to transfer the jam into the jars.  DO NOT put piping hot jam into a room temperature jar. It will crack!
More Ways to Use Your Jam
Strawberry jam is one of my favorite recipes with strawberries, and one of my favorite ways to use the jam is to keep a jar in the refrigerator and use as a strawberry "sauce."  Unfrozen, the consistency is like a thick sauce and is perfect poured over ice cream. Or, take a baked whole wheat tortilla and top  with strawberry sauce, honey, and homemade whip cream!
Cooks Tip: This can easily be altered by substituting blackberries, to make a blackberry freezer jam.  Or any other of your favorite fruits!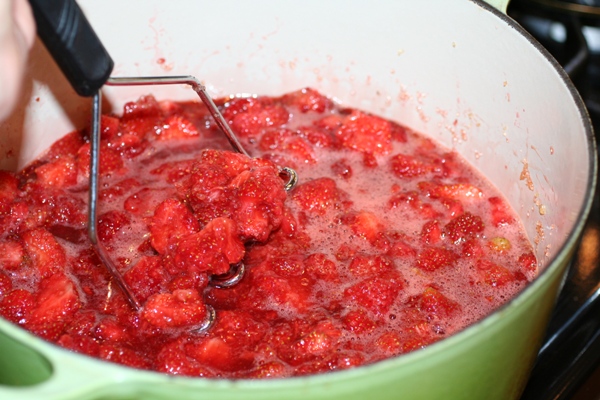 Want Chunky Jam? If you prefer chunky jam, just mash the strawberries in the pot with a potato masher instead of putting in the blender, as seen in the picture above.

How to Make Strawberry Jam
Ingredients
8 cups strawberries, pureed (or chunky -- your choice!)
3½ cups sugar (or 3 cups turbinado)
3-4 medium mason jars
Instructions
Clean, de-stem and puree strawberries in a blender, just until the big chunks are broken up. Too long and it will be juice! Or just mash with a potato masher for chunkier jam.
Place strawberries into a stock pot with sugar. Stir and bring to a rolling boil.
Once it reaches a rolling boiling (it will be a little foamy on top), then reduce to low heat and simmer for 30 minutes to 2 hours. The longer you cook, the thicker the jam will, so be sure to stir every 10 minutes.
While jam is cooking, place glass jars, lids and tops into water to cover the top. Bring to a boil for 20 minutes. Once 20 minutes is up, place a lid on top and let sit in warm water until you fill with strawberry jam.
Once jam has cooked to your liking, turn off heat.
Remove jars, lids, and tops with tongs and transfer to dry on towels.
Transfer strawberry liquid to sterilized, hot mason jars. Place lid on top and store in refrigerator for 2 hours. Then transfer to freezer.
Jam will keep in freezer for up to six months, or in refrigerator for 2-3 weeks.
Check out more of my favorite fresh strawberry recipes.  Plus several new ideas that include a recipe for Strawberry Smoothie with Oatmeal!