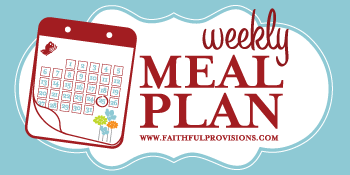 Now more than ever, I'm finding that I must be diligent with my weekly meal plan. Both of my kiddos are playing soccer this fall, so our usual afternoon and evening schedule is changing. I'm already pulling out crock pot recipes ( so dinner is ready when we are!) as well as looking for great, packable cooler foods for our version of "tailgating" at their games on Saturdays. Many of you have been doing this for a while–if you have some great ideas for take along snacks and sandwiches, please send them my way!
*If you think it's something your friends could use, please share it on Facebook using the button above!
My Weekly Meal Plan
Sunday: Today and tomorrow, we'll be joining friends and family to say good bye to summer. Be sure to check out my collection of recipes for this Labor Day weekend, including appetizers, main courses, and desserts, HERE.
Monday: Happy Labor Day!
Tuesday: This easy crock pot recipe has all the ingredients on sale this month: Slow Cooker Lasagna.
Wednesday: Since Kroger has salmon on sale this week at a great price, it's the perfect time for my Panko-Crusted Salmon over Greens. See all the Kroger deals HERE.
Thursday: Crock Pot Herbed Pork and salad. I'll do several pounds of pork so that I can morph the leftovers into other dishes.
Friday: Pork Quesadillas with spicy black beans and guacamole dip.
Saturday: Tailgating to the games with pulled pork hoagies.
What is on your weekly meal plan this week? I'd love to hear your ideas!
I always hope that I'm providing you with helpful content. If you found news you could use, please share it with your friends on Facebook. Thanks for telling others about Faithful Provisions!
More Resources
I have new Shopping List templates available for you. Whether you are shopping at one store or multiple stores, you can keep things organized with these FREE downloadable lists.