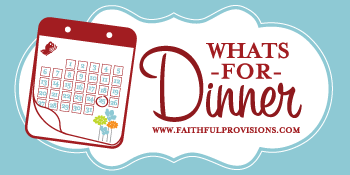 Tonight's Dinner Idea is Nachos. I love the flexibility of nachos. You can top them with whatever you choose! It's a great meal for the kiddos because I can offer a variety of things as toppings, and they can make some choices for themselves. We've got lots of different fresh peppers, so Bradford and I will enjoy making some spicy nachos for ourselves, but the kids will go for mostly cheese and meat on theirs, with a few tomatoes and maybe sweet peppers. Try these ideas:
Need a little inspiration? Check out my Recipe Box which is updated daily with new recipes!
=================================
Wondering what to make for dinner tonight? You'll love my money-saving recipes on what to cook for dinner! You are encouraged to not only list your dinner plans, but to request ideas and add your favorite recipes!