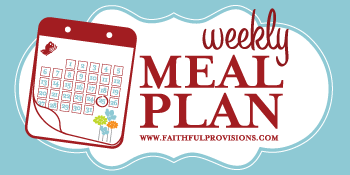 I've been at the dotMOM Conference in Birmingham all weekend, and so this is definitely a week of meal planning where I am glad (and so grateful) to have a full pantry and freezer that I can quickly plan this week's dinners. If you're already feeling a little overwhelmed by new fall schedules, let me encourage you to get back to the basics of meal planning. Just as my daughter's soccer team is re-learning the basics of soccer, it's important for us to sometimes go back and re-learn the basics of grocery savings. Meal planning is crucial to saving money each and every week. I can get off track too, and when that happens, I know it's best to go right back to the foundations that I first learned when my friend Bekah was mentoring me.
:: Check out the articles and tools on this Meal Planning page to get started, or to pick up wherever you left off! 
*If you think it's something your friends could use, please share it on Facebook using the button above!
My Weekly Meal Plan
Sunday: We're having breakfast for dinner tonight with a Ham and Cheese Quiche that I've had in the freezer and simply toast and jelly on the side.
Monday: I haven't done my Beef and Broccoli Stir Fry in a  while. Broccoli is in season and on sale, so it's a great time to have some fresh meals and salads with it. Easy egg rolls and a green salad will go perfectly with this.
Tuesday: Spaghetti sauce in the crock pot makes a spaghetti dinner that much quicker after we get home from soccer practices this evening. (Don't forget that September is the month to be stocking up on tomato products.)
Wednesday: Grilled chicken with Cabbage and Apple Salad (This recipe includes a delicious Ginger Vinaigrette that you will love!)
Thursday: Grilled Tilapia and Sweet Potato Fries Sweet potatoes are coming in right now in gardens all around me. If you want to know how to get them ready for the freezer, plus find some great recipes, check out the Sweet Potato Recipe Exchange HERE.
Friday: Pizza Night! Homemade Pizza Dough with Homemade Pizza Sauce
*Top with whatever is left in fridge, my new favorite is fresh chopped spinach, sliced tomatoes, green olives, pepperoncinis, and artichokes.

Saturday: Date night!
What is on your weekly meal plan this week? I'd love to hear your ideas!
I always hope that I'm providing you with helpful content. If you found news you could use, please share it with your friends on Facebook. Thanks for telling others about Faithful Provisions!
More Resources
I have new Shopping List templates available for you. Whether you are shopping at one store or multiple stores, you can keep things organized with these FREE downloadable lists.