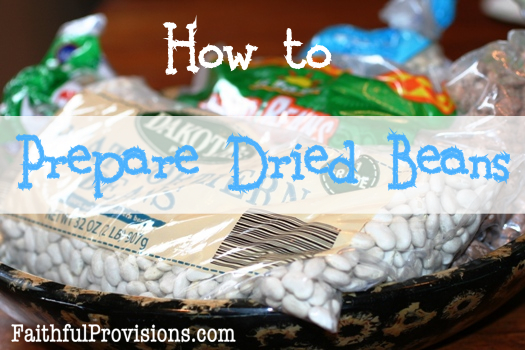 Our family eats a fair amount of beans these days because we have cut back on meat, since we are buying only organic meat and it is a little pricier. Beans and legumes are a low cost option for meatless meals. In order to cut my costs on beans and keep them as healthy (as preservative-free and sodium-free) as possible, I like to make my own in the crock pot.
They are really pretty easy. Just follow the step-by-step directions below, and once they are done, you can freeze them in 1 cup portions to use for soups, nachos, or stews. When you take them out of the freezer, simply place the freezer bag into a sink of cold water. They will unthaw in about an hour.

Preparing Beans

Preparing beans takes only a few minutes. Just follow these steps.
1. Pour beans onto a counter or table and sort through them. Remove any shells, rotten or shriveled beans, and any that have split in half.
2. Pour remaining beans into a strainer and rinse well under cold water.
3. Place beans into slow cooker or stockpot, and cover with water, about 2 inches above beans.
4. Add flavorings like garlic, diced onions, carrots, celery, seasonings or any vegetables to add flavor.
5. Choose your cooking method, and follow the directions below:
Crock Pot: Cook on medium or low for 6-8 hours. Salt and pepper to taste before serving.
Quick Crock Pot Method – Cook on high for 4 hours and low for 1 hour.
TIP: You'll notice that the crock pot method does not require you to pre-soak your beans. That is totally unnecessary when using your slow cooker. However, some people say that pre-soaking your beans helps to release certain enzymes and properties of beans that can cause the indigestion problems they are so well-known for, making them easier on your system.
Stock Pot: If you're using a stock pot, you'll need to soak your beans first. Soak beans overnight or 5-8 hours. ( I actually soak mine from 6am-11am, then cook them in the slow cooker on high.) Cook on the stove for 2 hours, stirring every 20 minutes to prevent sticking. Add water as needed if it cooks down too much.
6. Cool, drain and place one-cup portions of beans into quart-size freezer bags, seal, and place all quart bags into one large gallon bag. Lay flat and freeze like a book.
7. You can use these just like canned beans in any recipe.
To thaw and eat:
Place freezer bag into a sink of cold water for about an hour. Heat and add flavorings depending on your recipe.
Cooking Black Beans
Probably my favorite is cooking black beans in the slow cooker. Because I use black beans in so many recipes, I like to prepare a big batch and then get them divided into smaller portions and in my freezer. This way, they are as easy and convenient to prepare as canned black beans.
Slow Cooker Dried Beans Recipe
Try out this slow cooker dried beans recipe to get you started: my Northern Beans recipe. This is the ultimate in comfort food–but it's so rich in fiber that it's really good for you. It takes me right back to my Grandma Kelly's farm! And here are a few more: