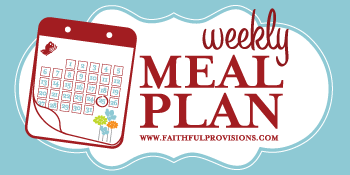 Need ideas for your weekly meal plan? I'm listing some of the things on sale at your grocery stores and then following that with recipes from my Recipe Box that coordinate with those sales. Let me know if you like this and if it helps you out with planning your meals this week.
*If you think it's something your friends could use, please share it on Facebook using the button above!
My Weekly Meal Plan
Sunday: Since Kroger has Perdue whole chickens on sale for $.99/pound (See Kroger Deals here), I'm going to get several so I can make some homemade soup stock this week. Today we'll have my Roast Sticky Chicken with easy Asian slaw and twice-baked potatoes.
Monday: Chicken Tortilla Soup
Tuesday: Chicken Spaghetti  and salad — This makes plenty, so I will be able to freeze the leftovers.
Wednesday: Chicken sandwiches and Easy Potato Salad
Thursday: Red Beans with Corn and Rice
Friday: Pizza Night! Homemade Pizza Dough with Homemade Pizza Sauce
*Top with whatever is left in fridge, my new favorite is fresh chopped spinach, sliced tomatoes, green olives, peperocinis and artichokes.
Saturday: Dinner out!
What is on your weekly meal plan this week? I'd love to hear your ideas!
More Resources
I have new Shopping List templates available for you. Whether you are shopping at one store or multiple stores, you can keep things organized with these FREE downloadable lists.