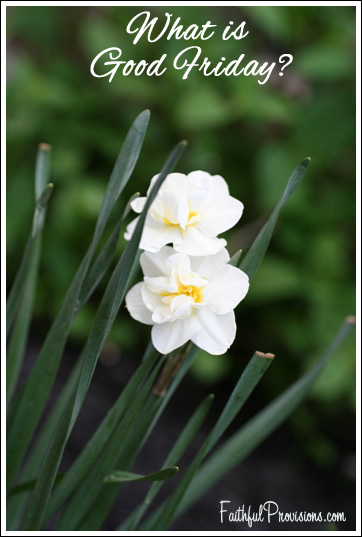 A lot of people ask, What is Good Friday?, meaning, Why do we call it Good Friday if that's the day that Jesus died? What's good about that?
To be honest, for a long time I didn't really understand the significance of Good Friday–even after I became a Christian. It was only after I grew in my faith and I began to mature in my study of God's Word that the profound significance of Good Friday, meaning the day the Jesus Christ was crucified, became clear to me. And I must admit, whenever I begin to really think about it, my understanding is renewed, and I am overwhelmed with gratitude.
Celebrating Good Friday means you understand the crux of Christianity. Good Friday is good because that is the day that we celebrate and honor the fact that Jesus Christ chose to die for us.
Jesus knew that his mission was now finished, and to fulfill Scripture he said, "I am thirsty." A jar of sour wine was sitting there, so they soaked a sponge in it, put it on a hyssop branch, and held it up to his lips. When Jesus had tasted it, he said, "It is finished!" Then he bowed his head and released his spirit. (John 19:28-30)

As a Christian, I explain the meaning of Good Friday as the basis of my faith. Honoring Good Friday, along with the celebration of Easter on Sunday, is so special. It's important to me that my children understand it as well, to the best of their ability. This day says we cannot save ourselves. Without Christ's selfless act, without His choosing to give His life, we would be living by the law, and not by grace. That's the reason Christians put so much emphasis on Maundy Thursday, Good Friday, and Easter as such  important holidays. It is the "why" behind the celebration of our salvation.
Good Friday is the mirror held up by Jesus so that we can see ourselves in all our stark reality, and then it turns us to that cross and to His eyes and we hear these words, "Father forgive them for they know not what they do." That's us! And so we know beyond a shadow of a doubt that if we say we have no sin, we deceive ourselves. We see in that cross a love so amazing, so divine, that it loves us even when we turn away from it, or spurn it, or crucify it. There is no faith in Jesus without understanding that on the cross we see into the heart of God and find it filled with mercy for the sinner–whoever he or she may be. ~Robert G. Trache
If you haven't accepted Jesus as your Savior, would you consider doing so right now? Now is the time, and today is the day. Pray the prayer below, and receive His love and forgiveness:
"Dear Father, I realize that I have broken your laws and my sins separate me from you. I am truly sorry. I want to turn away from my sins and turn instead toward you. Please forgive me. I believe that your Son is Jesus Christ. I acknowledge that He died for my sins and that He rose again on the third day. I know He is alive and He hears my prayer. I want Jesus to be the Lord of my life from now on. Fill me with the Holy Spirit, and help me to listen to Him and allow Him to lead me in glorifying You with my life. In Jesus' name I pray, Amen."
My Good Friday prayer for you is that this Easter is celebrated with family and friends, thanking the Lord together for His wonderful gift of Jesus.
If you choose to pray this prayer of salvation, please share the news with me. I want to know. If you have already accepted Jesus as your Savior, I would love to hear your testimony.
::Find more of Kelly's devotional articles HERE.