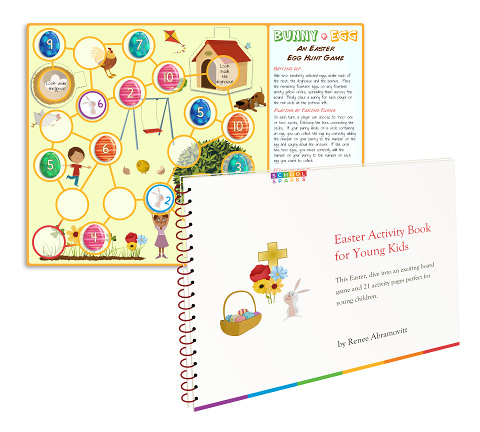 You'll love this easy Easter crafts game from my friend Renee at School Sparks. It's a FREE Easter board game called "Bunny+Egg" and it comes with 21 FREE Easter activity pages.
If you're a mom , you know that learning needs to be fun! This colorful board game challenges your child to hop around a backyard, collecting Easter eggs as he goes — but he can only keep the each set of eggs he finds if he can correctly complete the basic addition problem that goes together with each set of eggs. There are tons more activities as well, for pre-reading skills, listening games, visual discrimination activities, sorting activities and math games, all with a springtime Easter theme.
Best of all, the entire Easter Activity pack, including the board game, is totally FREE and available now on the Easter Worksheets section of the School Sparks website HERE, (just look in the upper right corner of the page).
You can find more fun Easter Crafts Ideas on Faithful Provisions.