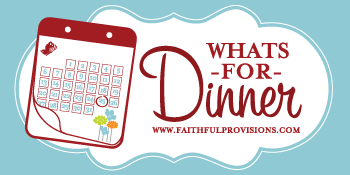 Tonight's Dinner is…Carmelized Onion Burgers, Mango Granola Salad and cantaloupe.  It is blazing hot here, but hubs still wanted to grill.  We are sauteing the onions on our grill's side burner, and topping with cheddar cheese.  I'm using my organic mixed greens I got at Kroger on markdown with $1 mangoes and homemade granola with red wine vinaigrette, and some fresh cantaloupe I got for $1.99 at Publix.
Need a little inspiration? Checkout my Recipe Box which is updated daily with new recipes!
=================================
So, what's for dinner tonight at your house? You are encouraged to not only list your dinner plans, but to request ideas and add your favorite recipes!