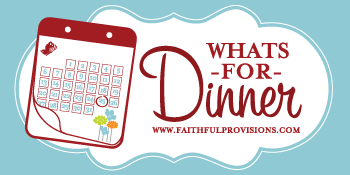 Tonight's Dinner is…Spinach Cream Cheese Lasagna, Organic Greens and Tomatoes with Red Wine Vinaigrette and  Wheat Rolls.  I got some baby organic spinach and greens on my Kroger trip Friday, so I decided to use them all up in a fresh lasagna.  I will be freezing the extras, and pulling our my freezer wheat rolls I made on Prep Day to finish out the meal.
Need a little inspiration? Checkout my Recipe Box which is updated daily with new recipes!
=================================
So, what's for dinner tonight at your house? You are encouraged to not only list your dinner plans, but to request ideas and add your favorite recipes!