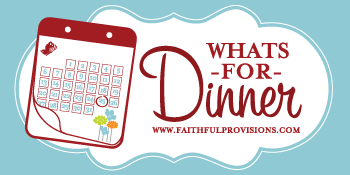 Tonight's Dinner is…Creamy Chicken Enchiladas and a salad with my favorite Taco Salad Dressing! I changed up our traditional Chicken Enchiladas by adding 1 cup of picante sauce, and then taking half of the cream mixture and putting it on the top versus the enchilada sauce.  I think I will like the enchilada sauce better! I like sticking with my traditional winners.
Need a little inspiration? Checkout my Recipe Box which is updated daily with new recipes!
=================================
So, what's for dinner tonight at your house? You are encouraged to not only list your dinner plans, but to request ideas and add your favorite recipes!