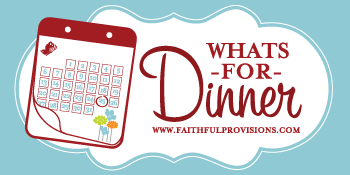 Tonight's Dinner is…a Grilled Red Pepper Sesame Chicken over Organic Salad Greens with wheat rolls.  I am using my Frontera Red Pepper Sesame Grilling Sauce that I got in the Dads Rock Bash Bar-S Gourmet Grilling Basket.  I will let you know how I like it!
We are going to have to grill quickly, it looks like we have a storm coming.
Need a little inspiration? Checkout my Recipe Box which is updated daily with new recipes!
=================================
So, what's for dinner tonight at your house? You are encouraged to not only list your dinner plans, but to request ideas and add your favorite recipes!