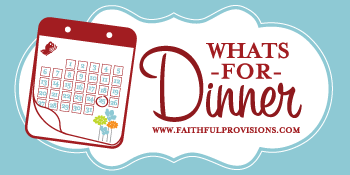 Tonight's Dinner Idea is Fajitas. This is a fun, family-friendly meal for a Friday night. I try to offer lots of topping choices so that the kids can create something they will actually eat! Some kid-friendly choices around here are cheese, sour cream, tomatoes, and black beans.
Need a little inspiration? Check out my Recipe Box which is updated daily with new recipes!
=================================
Wondering what to make for dinner tonight? You'll love my money-saving recipes on what to cook for dinner! You are encouraged to not only list your dinner plans, but to request ideas and add your favorite recipes!