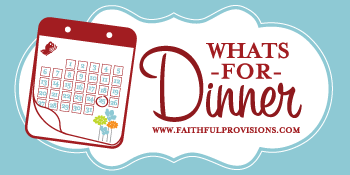 Tonight's Dinner Idea is Homemade Pizza Dough with Homemade Pizza Sauce, which are both in my freezer. Finding toppings isn't hard at all. We'll use fresh peppers from my CSA box, cheese, and leftover black beans in an adaptation of my own Black Bean Pizza.
Need a little inspiration? Check out my Recipe Box which is updated daily with new recipes!
=================================
Wondering what to make for dinner tonight? You'll love my money-saving recipes on what to cook for dinner! You are encouraged to not only list your dinner plans, but to request ideas and add your favorite recipes!