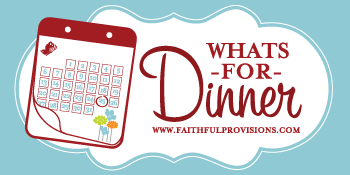 Tonight's Dinner is…Lemon Pepper Salmon, sauteed Spinach and Orzo Salad.  The salmon is a wild caught sockeye I got on managers special at Kroger and froze, the spinach is organic managers special and the orzo is made from all my garden tomatoes!
Need a little inspiration? Checkout my Recipe Box which is updated daily with new recipes!
=================================
So, what's for dinner tonight at your house? You are encouraged to not only list your dinner plans, but to request ideas and add your favorite recipes!