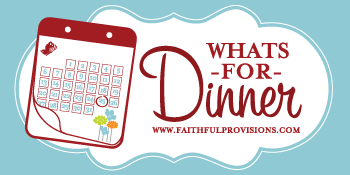 Tonight's Dinner is…Spicy Hawaiian Pizza.  I am taking my Grilled Hawaiian Pizza recipe and taking it inside, plus adding a little spice to it.  I think I will add a bit of Texas Pete's Hot sauce to it for a bit of a kick.  I just pulled the Homemade Pizza Dough that I cook in batches out of the freezer.  So it should be ready by around 4:30, because we are heading out for a family worship time at our church tonight!
Need a little inspiration? Checkout my Recipe Box which is updated daily with new recipes!
=================================
So, what's for dinner tonight at your house? You are encouraged to not only list your dinner plans, but to request ideas and add your favorite recipes!