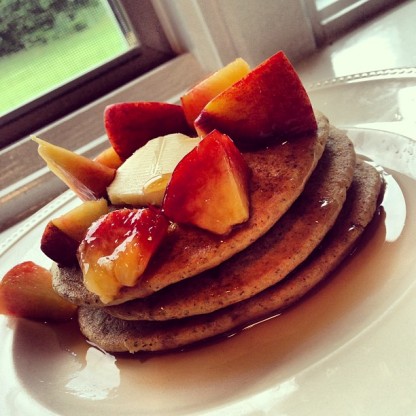 I've heard people say they their kids won't eat whole wheat pancakes, but my kids just gobble them up and ask for more! Maybe they love them because that's all they have ever known.
*Scroll down to use print recipe feature and add to your Recipe Box.
We put fresh peaches on top. But you can use whatever fruits you have on hand. You'll find these whole wheat pancakes are great with bananas, raspberries, blueberries–whatever you like. Now, these pancakes, whole wheat, do look a little different. They were a little more dense than a regular, white flour pancake, but they were still fluffy, and tasted fabulous!
TIP: You may need to add more milk to your mixture. It just depends on how thick it is. You need to be able to pour it easily from a blender. Another option: Make it in a bowl and puree the nuts and seeds separately in a food processor if you need to.
Sugar Free Whole Wheat Pancakes
This recipe for whole wheat pancakes is sugar free. Whole wheat pancakes are going to be topped with syrup (which is sweet) and/or fruit (also sweet), so you don't need added sugar in the batter itself. By the way, we use 100% pure maple syrup and organic butter (not margarine). (We're not stingy with either one of those toppings either!)
Whole Wheat Pancakes with Flaxseed
Ingredients
1 ½ cups of whole wheat flour (You can do ¾ cup whole wheat flour and ¾ cup white flour if you want to ease into the whole wheat taste.)
2 cups milk (I use almond milk.)
2 tablespoons oil (I use grapeseed oil or coconut oil.)
2 teaspoons baking powder
½ teaspoon baking soda
½ teaspoon salt
⅓ cup flaxseed meal. Put this in a Vitamix or blender. Even if the sunflower seeds don't mix in completely, it will give it a nutty texture that is really good.
2-3 tablespoons of unsalted sunflower seeds
Instructions
Mix all the dry ingredients: flour, baking powder, baking soda, and salt in a bowl.
Process the flaxseed meal and sunflower seeds in a Vitamix or blender.
Mix the milk and oil/butter in a separate bowl.
Combine all ingredients until you have a thick batter. Add more milk if necessary.
Cook on a greased non-stick or cast iron pan or griddle.
Serve with maple syrup and butter.
Also try: