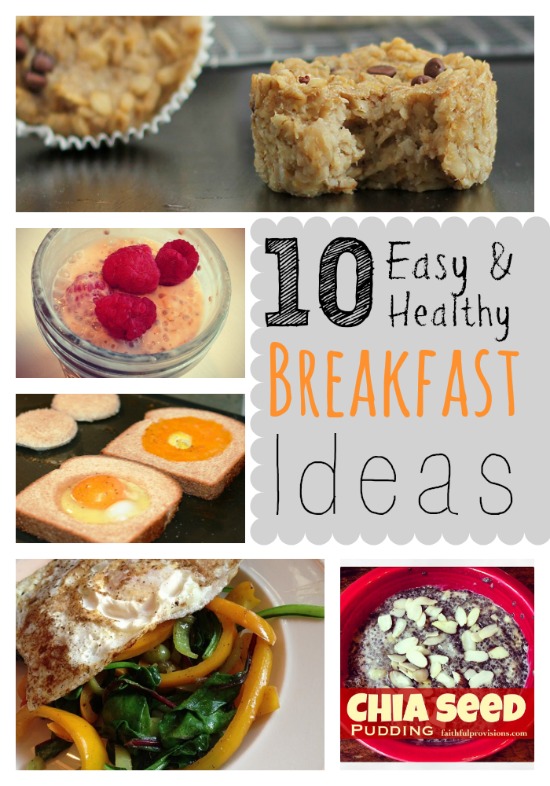 Easy Breakfast Ideas
I don't know about you, but I struggle to come up with something tasty, easy and healthy each morning.  Pancakes & waffles get so boring & repetitive. I usually end up having the same smoothie each day and some toast. The kids are ready for something new.  And so am I.
I started looking around and trying some new recipes.  After some trial and experimenting, we've come up with some  new favorites.  Here are my Top 10 Easy Breakfast Ideas. These are all super easy to make & good for you.  Plus, my kids love them.  Bonus!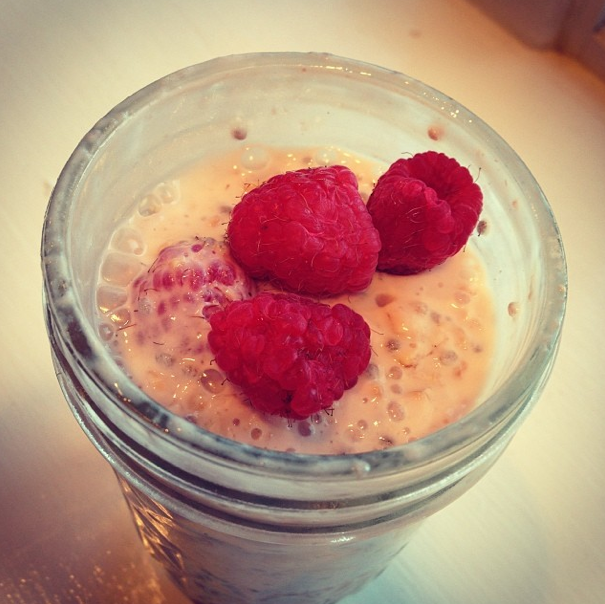 1) Overnight Oatmeal Jars – I've adapted this recipe since I can't do much dairy because of my allergies.  I omit the yogurt and use almond milk and my favorite protein powder instead and it turns out wonderful.  It's not as creamy, but it still tastes great.
2) Oatmeal Cupcakes – The kids love these and they are great to keep in the freezer and pop in the oven for an on-the-go breakfast. I like to add in things like chia seeds, hemp seeds, coconut flakes, protein powder and almond butter.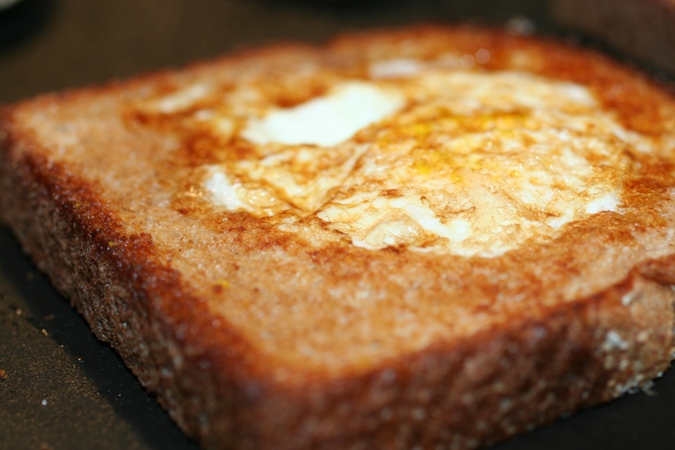 3) Egg In the Hole – This Tried and True meal is still our favorite for a warm breakfast. It is so quick and easy and pretty portable too. I'm curious – what do you call these? (egg in the hole, hay stacks, etc)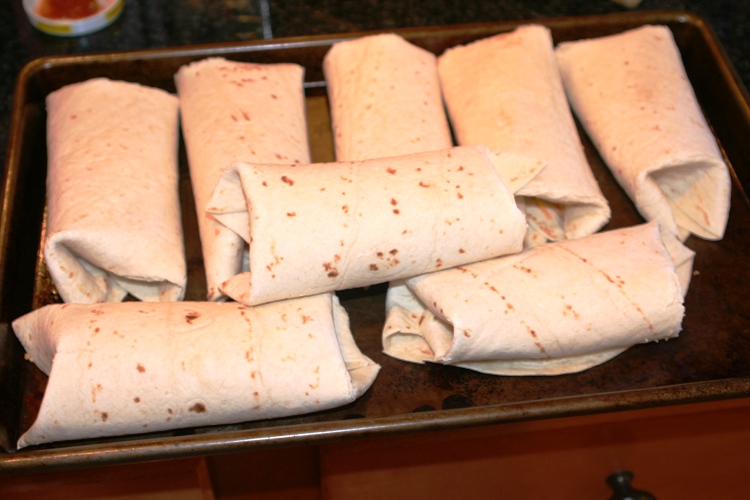 4) Breakfast Burrito – The key to these is to add some veggies in! I usually sneak a little spinach in with the cheese and eggs. These make up fast, and actually freeze really well, so you can make a bunch ahead. You can also try making your own Homemade Tortillas, but they don't freeze as nicely.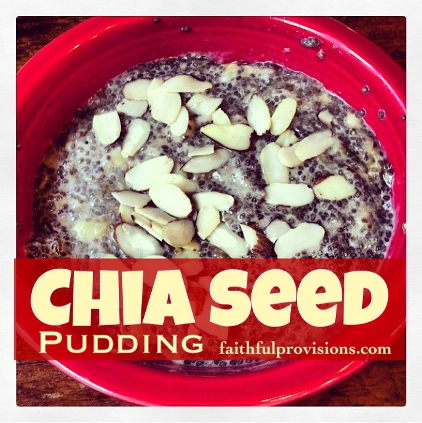 5) Chia Seed Pudding – This might be one of my absolute favorite make-ahead meals! I have so much energy within 30 minutes of eating this breakfast pudding.  The best part is that I can make it the night before & put it in mason jars.
6) Baked Oatmeal – The hardest part of this make-ahead meal is remembering to make it the night before. Haha!  Seriously, it only takes about 20 minutes in the morning to add the final ingredients & bake.  My kids absolutely love this one!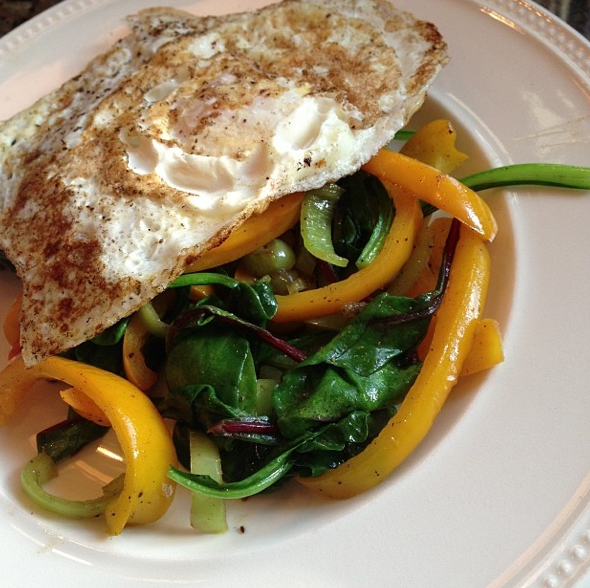 7) Eggs Over Greens –  This is one of the quickest breakfast meals I make.  I just use whatever greens I have on hand.  It's full of nutrients and protein to fill me up for the day.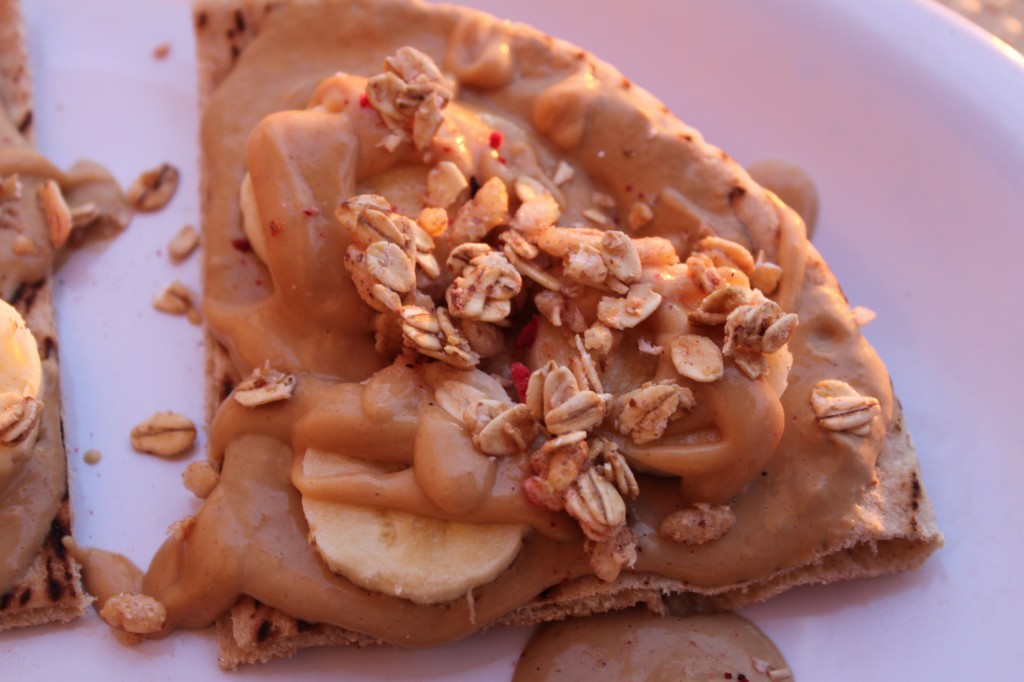 8) Breakfast Pita Pizza – This is a breakfast-friendly version of my Pita Pizza recipe.  I like to use almond butter, honey, granola & bananas.
9) Energy Bites – I keep these in the fridge most of the time.  They're great for a super-fast breakfast or a mid-morning snack.  If I want to change them up, I like to add in things like chia seeds, flax seed, coconut flakes, chocolate chips or almond butter.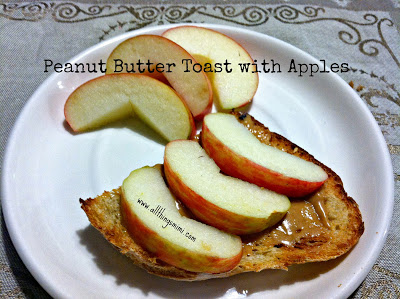 10) Apple & Peanut Butter Toast – Super simple and can be adapted to fit your family's tastes and what you have on hand. If we don't have apples, I will change it to bananas.  You can use any kind of nut butter, but I think plain 'ole peanut butter is my favorite. I also make Cinnamon Toast for an extra special treat.
:: Check out even more Breakfast ideas in my Recipe Box.
What are your favorite healthy breakfast ideas? I would love to hear what you serve!