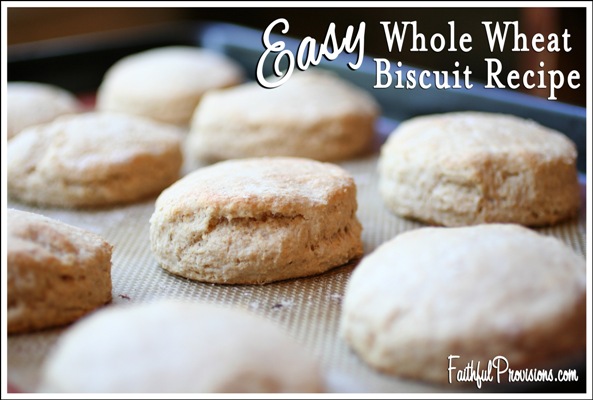 Okay, so I absolutely love homemade biscuits, but they don't exactly fit into our clean eating plan these days. What is a girl to do? Create a version that does fit! I made some modifications, namely whole wheat flour (fresh milled) and butter instead of shortening. I have to say, these aren't bad…not bad at all.
But, do you know what the best part is? They only take about 5 minutes to make (Seriously! 5 minutes!) and 10 minutes to cook, so you can have them ready in 15 minutes. That is less time than it takes me to get out the door to go to Cracker Barrel.
Let me know what you think…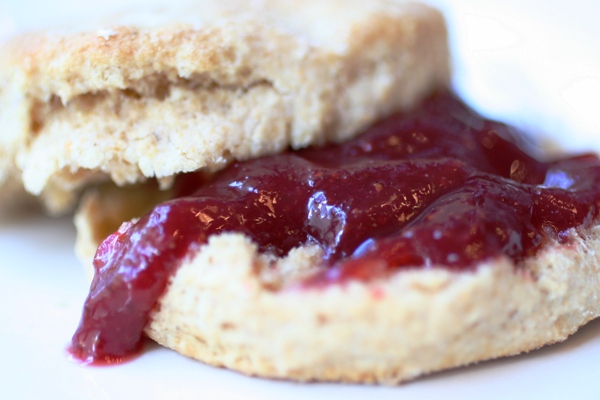 Oh… and this is the best way to eat a homemade biscuit… smothered in butter and homemade strawberry jam. Technically this is still clean eating, it's organic butter and homemade strawberry jam!
Variation: Add 1-2 tablespoons of sugar and your favorite add ins like dried blueberries or mini chocolate chips and you have a delicious scone recipe!
Whole Wheat Biscuit Recipe
Ingredients
2½ - 3 cups whole wheat flour (pastry flour preferred)
2 teaspoons baking powder
½ teaspoon baking soda
1 teaspoon salt
3 tablespoons of cold butter, diced
1 cup buttermilk, Kefir, or yogurt
Instructions
Preheat oven to 425 degrees.
Sift dry ingredients together in a large mixing bowl.
Add cold butter and mix using a pastry cutter or put into a food processor, until butter is combined in bits, like coarse meal.
Add buttermilk and create a soft dough (add more flour if it is still sticky), then turn out onto a floured surface and knead until well mixed. (not more than 20 times, it will get too tough)
Press or roll out to ½ - 1 inch thickness, then cut using your favorite biscuit cutters.
Bake for 10 minutes or until slightly brown.
Serve covered in butter and your favorite honey or jam.