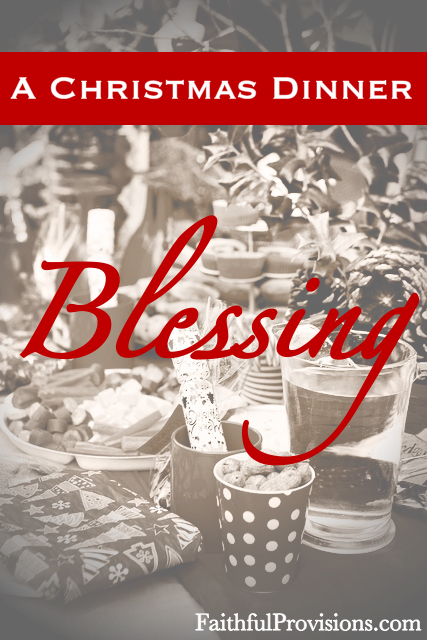 We focus on so many aspects of Christmas that when it comes time to say a Christmas dinner blessing, I'm not sure that we make the most of that opportunity. While we may feel like simply breathing a sigh of relief or shouting a quick Hallelujah!, maybe it's time to look at those few moments before we eat and take it up a notch.
Picture it: The family is seated around the table. Everything is finally done. The fragrances of favorite food as well as the faces of family and friends have filled your sense of thankfulness to overflowing. Now it's time to "return thanks." Why not make it thoughtful and meaningful? Why not take a little time to plan it out?
Perhaps your family always asks Dad or Grandmother to say the Christmas blessing–they probably don't need any help at all. When I was growing up, my grandfather always said the blessing at Christmas. I remember his quiet, humble voice. He took his time and said his prayer in such a personal way that there was no doubt he was communicating with the Lord. Those were sacred, holy moments that I remember well, and I look back on them with heartfelt gratitude. Maybe the baton has passed, however, and you're looking for a special Christmas dinner grace to say this year. I love the one below.
Christmas Eve Dinner Prayer
This makes the perfect Christmas Eve dinner prayer. This poem by Robert Louis Stevenson is simple and short enough for even young children to understand and be able to sit through. It celebrates and still encourages us to reflect deeply on the true gift of Christmas–Jesus!
Loving Father, Help us remember the birth of Jesus,
that we may share in the song of the angels,
the gladness of the shepherds,
and worship of the wise men.
Close the door of hate and open the door of love all over the world.
Let kindness come with every gift and good desires with every greeting.
Deliver us from evil by the blessing which Christ brings, and teach us to be merry with clear hearts.
May the Christmas morning make us happy to be thy children,
and Christmas evening bring us to our beds with grateful thoughts, forgiving and forgiven,
for Jesus' sake. Amen.
~Robert Louis Stevenson
Write Your own Christmas Dinner Prayer
You can write your own Christmas dinner prayer and make it specific to your family and the events that have gone on over the course of the year. Here are some tips:
Start with praise. Praise the Lord for Christmas. Thank God for the significant events of Christmas, and for bringing Christ into the world. Thank Him for the salvation that Christmas offers us. Praise the Lord for how He has carried you through significant events over the past year. Lord, we thank you for Dad's new job and for helping us find a house and friends in our new town. Lord, we're grateful that you brought Nana through her surgery last month…
Ask God to bless our world leaders, people who are hurting in our communities and globally, and the ones of your family who are not able to be with you this year. Pray specifically for the families in Newtown, Connecticut, for whom this Christmas will be particularly painful.
Thank God for His many gifts, both tangible and intangible. Thank God specifically for the good character qualities you have seen growing in your kids over the past year, things like integrity, generosity, and patience. Father, thank you for blessing my son with an attitude of diligence at his first job. Or, Thank you for the kindness we've seen grow in our daughter as she has learned to share with her baby sister. Thank Him for His faithful provision for your family.
Bless the ones around the table. Ask God to bless each person gathered at your table with His love and grace, and with a deeper knowledge of who He is.
Don't overlook the significance of praying together as a family, hands and hearts joined together around the table. It is a sacred, holy moment that they will remember well. It's what Christmas is all about.

Article by Faithful Provisions contributor Rebecca Ingram Powell.
See 5 more Christmas Dinner Prayers on Faithful Provisions.