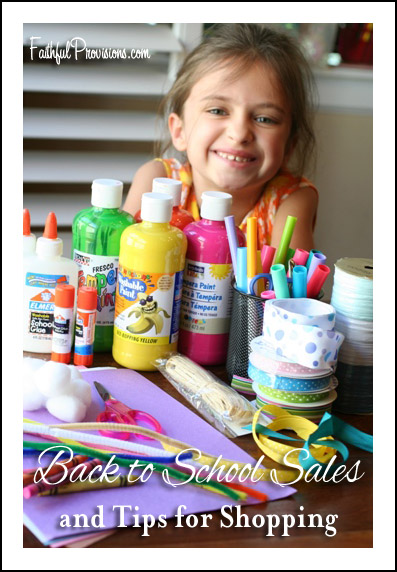 Back to School sales for 2015 are beginning to show up everywhere, and I love the bargains you can snag this time of year. You can use this time of year to stock up on items for the next 12 months, because you won't see prices any lower on supplies for school, including stocking up your kids' craft supplies, your own craft closet, and items for your home office or home school. Here are some tips to help you make the most of the back to school deals.
*Scroll down for the latest Back to School Sales links.
School Shopping
When it comes to school shopping for the younger crowd, you'll need to stock up on crayons, markers, and lots of good old-fashioned paper.
Stack coupons with sales. You know this is the best way to save, so be on the lookout for coupons to match up with the sales. My printable coupon page is a great place to start finding them.
Buy what you need for the year. I think most people under buy when it comes to school supplies, but you have an entire year before these sales will come back around. If you can get spiral notebooks for $.15 now, then get a ton of them. If your kids need them mid-semester, they will be priced at over $1 each, and you will wish you had bought enough.
Don't buy fall clothes. Now is not the time to purchase fall clothes. You'll find lots of summer items discounted that will work for August and September, and in many southern states, all the way through October and early November. (Using these items as layers make great fall fashion statements.)
Remember Operation Christmas Child. This is the perfect time for getting items for your OCC shoeboxes. School supplies that are plentiful here are not nearly so available overseas. Keep in mind how many shoeboxes you would like to fill this year, and purchase enough pencils, markers, crayons, stickers, and other fun items for box fillers. (Don't forget flip flops too!)
Back to School Lunch Ideas
If you need something fresh in the way of Back to School lunch ideas, you'll want to check out my thoughts for packing healthy lunches that are high on nutrition but strive to keep things as inexpensive as possible. Be sure to sit down with your child and ask them for their ideas for favorite school lunches too. Kids can be creative, so be sure you keep in mind that their lunch should cater to what they like to eat, even if it is combinations of foods that aren't particularly appealing to your own grown-up tastes. (Peanut butter and ham, anyone?)
::  Find great ideas for school lunches HERE.
Supplies for School
Supplies for school are definitely changing in today's world, but many of the traditional items are still on your child's school supply list. We've developed a way to make your shopping easier this year. You'll find a complete Back to School shopping list  with the latest school supplies along with prices by store. These are updated twice weekly, so you will be able to find the absolute lowest prices on the items your child needs for school.
THE LATEST SCHOOL SUPPLY DEALS (links below)
*Be sure to check the dates on posts below. These are listed in order of the latest deals.