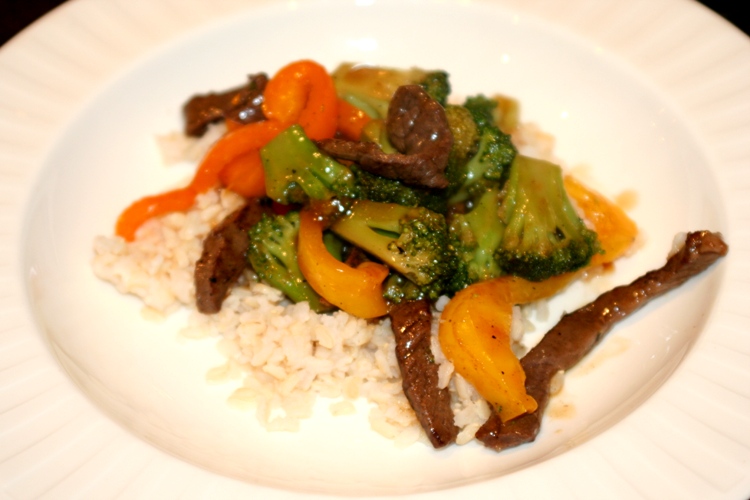 This was a total "eat from my stockpile meal." Everything  I used was on hand in my freezer: the  beef, brown rice, broccoli, and sliced peppers. Now with a different sauce and better rice it would have been much better.  In all honesty, my version of this wasn't so great! So, you're probably reading this wondering why I even put this recipe up if my version didn't turn out right.  But I overcooked the rice before I froze it (which means a whole batch of soggy rice…ugh), and the sauce I used was no good.  Other than that, this recipe would be great.  It is all about the sauce and the rice, and I royally messed those up.
In your version, I recommend either using your favorite Stir Fry sauce or making your own.The reason the meat is so dark is that I marinated it in soy sauce before I cut it, so it isn't bad :).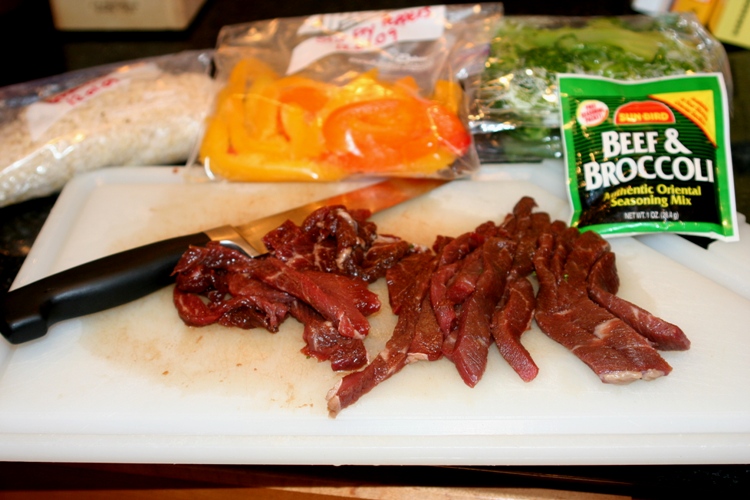 Beef and Broccoli Stir Fry
Ingredients
1 lb thin beef, sliced and marinated in soy sauce
1 bell pepper, sliced (red, orange or yellow)
2 pkgs frozen broccoli, stems removed
2-3 cups brown rice, cooked
Bottled stir fry or teriyaki sauces
Instructions
Heat up a skillet (I use my trusty iron one) and brown meat.
Once meat is browned, add vegetables and cook until cooked through about 3-4 minutes.
Add favorite stir fry sauce and heat through.
Serve over rice.
Recipe developed by Kelly Hancock ©2010 Faithful Provisions. For personal use only. May not be reproduced, reprinted or distributed for capital gain without prior permission from Kelly Hancock.