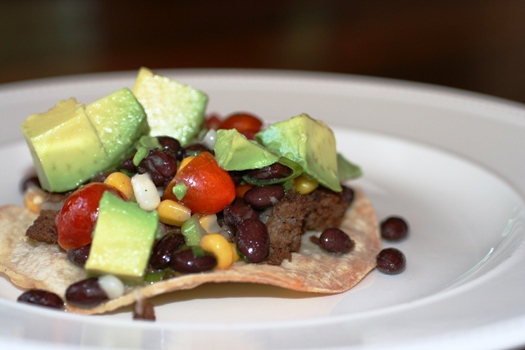 Ooh, this is so good! I love to make a big batch of Black Bean Corn Salad up and then make this before it's gone.
Black Bean and Corn Salad Tostadas
1 lb seasoned taco meat (beef, turkey or chicken)
6-8 corn tortillas
Shredded cheese, monterey jack or cheddar
Black Bean Corn Salad
1 ripe avocado, diced
Preheat oven to 375 degrees.
Place tortillas on a baking sheet and spay with oil. Toast in oven for about 4-5 minutes, until partially cooked.
Remove from oven and top with meat and cheese. Return to oven and heat until cheese is melted.
Top with black bean corn salad, avocados and sour cream.
Print Recipe: Click on the green "print friendly" icon at the bottom of this post, and check "remove images" for a printable version.
Recipe developed by Kelly Hancock ©2010 Faithful Provisions. For personal use only. May not be reproduced, reprinted or distributed for capital gain without prior permission from Kelly Hancock.