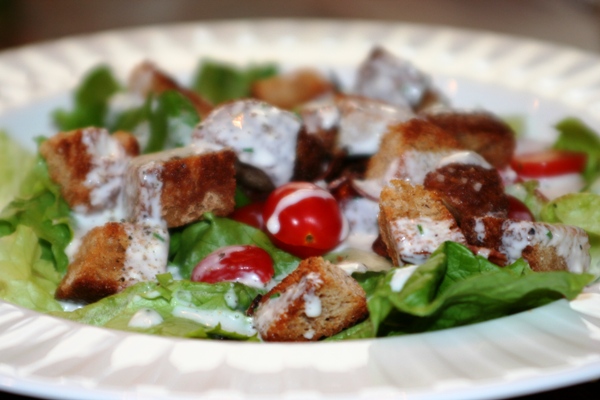 One of my favorite sandwiches is a BLT, so this recipe for a BLT Salad is one of my favorites–especially using fresh, homegrown tomatoes. This salad takes the traditional idea of a bacon, lettuce, and tomato sandwich and adds a unique twist: The flavors of avocado and green onions, making it taste AMAZING! Parmesan cheese would be great on this too.
TIP: To lighten this up a bit, we used turkey bacon and 2% milk in the dressing.
BLT Salad with Homemade Buttermilk Dressing
Ingredients
For the Salad
1 head lettuce, Green Leaf or Romaine
½ pound bacon, cooked and crumbled
1 pint cherry tomatoes, halved
1 avocado, seeded and diced (See my Avocado Tutorial)
3 green onions, chopped
For the Buttermilk Dressing
⅔ cup buttermilk
6 tablespoons mayonnaise
¼ cup apple cider vinegar
2 teaspoons fresh chives, chopped (dried chives 1 teaspoon)
Kosher salt
Fresh ground pepper
Instructions
Combine salad ingredients, except croutons, and toss gently.
Whisk dressing ingredients together and sprinkle with salt and pepper to taste.
Top salad with dressing, add croutons at the very end.
TIP:No buttermilk? Add 2 teaspoons lemon juice or white vinegar to 2/3 cup milk. Let sit 15 minutes.
Recipe developed by Kelly Hancock ©2010 Faithful Provisions. For personal use only. May not be reproduced, reprinted or distributed for capital gain without prior permission from Kelly Hancock.